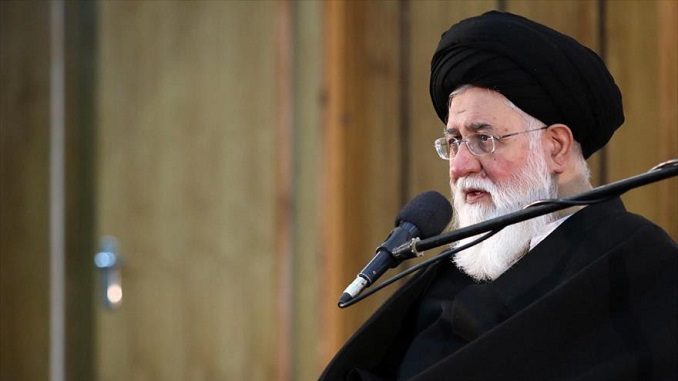 A top cleric in Iran's second largest city of Mashhad urged for a fierce action by security forces after hundreds of people went on the streets to protest against high prices and shouted anti-government slogans, state news agency IRNA stated.
Police arrested 52 people in Thursday's protests, the semi-official Fars news agency quoted a judicial official as saying in Mashhad, one of the holiest places in Shi'ite Islam.
Political protests are rare in Iran. But demonstrations are often held by workers over layoffs or non-payment of salaries and people who hold deposits in non-regulated bankrupt financial institutions.
"If the security and law enforcement agencies leave the rioters to themselves, enemies will publish films and pictures in their media and say that the Islamic Republic system has lost its revolutionary base in Mashhad," IRNA quoted prominent conservative cleric Ayatollah Ahmad Alamolhoda as saying.
Videos posted on social media showed demonstrators chanting "Death to (President Hassan) Rouhani" and "Death to the dictator." Protests were also held in at least two other northeastern cities.
Alamolhoda, the representative of Supreme Leader Ayatollah Ali Khamenei in northeastern Mashhad, said a few people had taken advantage of Thursday's protests against rising prices to raise slogans against Iran's involvement in regional conflicts.
"Some people had come to express their demands, but suddenly, in a crowd of hundreds, a small group that did not exceed 50, shouted deviant and horrendous slogans such as 'Let go of Palestine', 'Not Gaza, not Lebanon, I'd give my life for Iran'," Alamolhoda said.
Videos on social media also showed demonstrators chanting "Leave Syria, think about us", criticizing Iran's military and financial support for President Bashar Assad who is fighting opponents of the government in Syria's six-year-old civil war.
Vice President Eshaq Jahangiri, a close Rouhani ally, suggested that hard-line opponents of the president may have started the protests.