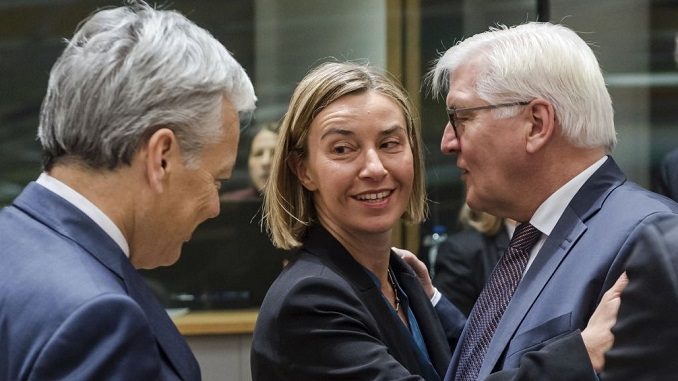 Europe will give fresh backing to the Iran nuclear deal on Monday after U.S. President Donald Trump threatened to tear it up in a speech that alarmed allies across the Atlantic. European Union foreign ministers are urging the U.S. Congress to safeguard the Iran nuclear agreement after President Donald Trump withdrew his support for the deal, New York Times reports.
A senior EU official said in Luxembourg on Monday that foreign ministers were expected to express their "full support for continued implementation" of the deal negotiated with Iran over 12 years by the U.S., Britain, France, China, Germany and Russia.
The leaders of France, Britain and Germany delivered a clear rebuke to Trump saying the deal remains in their shared national security interest and urged U.S. lawmakers to think carefully before doing anything to undermine the agreement.
French Foreign Minister Jean-Yves Le Drian said in Luxembourg on Monday that "we hope Congress will not call this agreement into question." His Dutch counterpart Bert Koenders said the agreement concerns "the safety of the world. I hope also that the U.S. Congress will realize this and take the right decisions."
Belgium's foreign minister, Didier Reynders, said that walking away would compromise trust in any future negotiations on North Korea's nuclear ambitions.
"We must be able to demonstrate that when a nuclear agreement has been concluded that we respect it," he said.
EU officials have been lobbying members of Congress not to turn their backs on the accord, which was endorsed unanimously by the UN Security Council. Diplomats say that European powers share some of Trump's concerns about Iran's activities not covered by the nuclear deal — notably its ballistic missile program and involvement in numerous Middle East conflicts including Syria.
European Union foreign policy chief Federica Mogherini said on Monday she expected strong backing from EU foreign ministers for the 2015 nuclear deal between Iran and world powers that the U.S. President Donald Trump has repeatedly criticized.
"It's an agreement that is working. It's an agreement that we need for our security, and I would expect from the ministers today a strong signal of European unity and its support and the full commitment to have it implemented by all sides," Mogherini told reporters before a foreign ministers meeting in Luxembourg.
European governments started fearing at the beginning of October a concerted effort to persuade Donald Trump to continue to certify the Iran nuclear deal have failed and started looking for other ways to try to salvage the two year-old agreement.
Their lobbying efforts focused on Congress which will have two months to decide – in the absence of Trump's endorsement of the 2015 deal – whether to reimpose nuclear-related sanctions. The foreign ministries of UK, France and Germany agreed to plan for the worse and marshall European political resources for a potential rearguard action lobbying in Congress.
"The E3 are keen not to make it all about the president's decision. Even if the decision is not to certify, we will want to see on what terms he passes it to Congress," one diplomat said.
The U.S. Senate currently appears delicately balanced on the issue, with almost all Republicans and Democrats likely to vote by party line. The majority leaders in the Senate and the House are reluctant to get bogged down in gruelling debate on an issue they believe the president should decide.
"Congress doesn't want to get in the middle of this and own it," said Ilan Goldenberg, a former state department official now at the Centre for a New American Security.