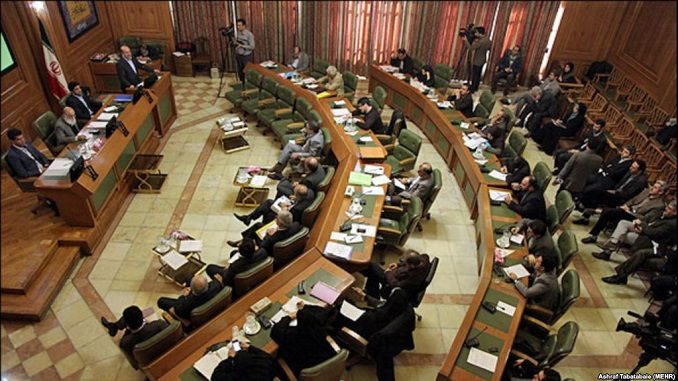 A member of Iran's capital city council has disclosed that salaries paid by Tehran's municipality are two times more than the number of its registered staff, Radio Farda reports.
"According to the statistics, while Tehran municipality's official manpower is 68,000, it pays salaries to more than 130,000 people. The municipality pays nearly 5.50 trillion rials (roughly $140 million) to more than 130,000 people each month. This is too much weight on the municipality's shoulders," said Majid Farahani in an interview with the semi-official Mehr News Agency (MNA).
Farahani has also maintained that a significant bulk of personnel, especially managers, are retirees and many more have been transferred from other government entities. According to a report from the Inspection Organization, between 2011 and 2012, the TM hired 4,200 people who were relatives of religious eulogists and military or civil officials.
About 30 percent of those installed at the Tehran Metro transit company were either illiterate or hadn't reached the level of high-school education. However, their average monthly salary was between 90 million and 110 million rials or about $4,000 at the dollar exchange rate at the time.
According to some media outlets, the municipality did not even have the ability to pay the salaries of its employees. Furthermore, Farahani described the situation at municipality's subsidiary companies and organizations as deeply deplorable. At Tehran Metro, Farahani insisted, "There are more than 4,000 staff who are called 'no position' personnel and are practically idle."
The volume of corruption and law violation in TM is so high that other financial fraud looks like small change in comparison, veteran politician and city councilor Morteza Alviri had earlier said.
"Corruption in Tehran's municipality is so deeply rooted that it has become institutionalized," Alviri had lamented on August 14.
In an interview with Students News Agency (ISNA), Alviri, formerly a mayor of Tehran (1999-2002), said the scandalous case of "astronomical estates" was the "tip of the iceberg." He was referring to a scandal in TM in which estates worth billions of dollars were generously distributed among city councilors and City Hall staff.
Earlier, several reformist members of the current TM had criticized former mayor and IRGC commander Mohammad Baqer Qalibaf for hiring people randomly and ignoring protocol. Qalibaf, an Islamic Revolution Guards Corps' commander and former chief of police, challenged Hassan Rouhani in May's presidential election but dropped out midway in favor of another conservative challenger.
Although he has widely been accused of corruption, Supreme Leader Ayatollah Ali Khamenei appointed him as a member of the Expediency Council on August 14. Qalibaf has repeatedly denied that the capital city's municipality was corrupted during his term.