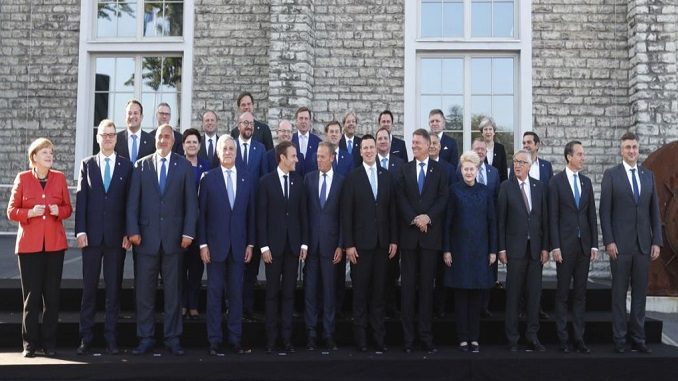 EU leaders voiced support for a landmark deal to limit Iran's nuclear activities in exchange for sanctions relief, one week after U.S. President Donald Trump said he would not certify that Iran abided by the agreement.
"The European Council reaffirms its full commitment to the Iran nuclear deal and endorses the statement by the foreign affairs council of October 16, 2017," the leaders of the 28-member European Union say in a brief statement. The statement was endorsed at a dinner in Brussels later on October 19.
EU leaders in their discussions of the deal highlighted the need to protect European companies and investors dealing with Iran from any adverse effects should Washington decide to reinstate U.S. sanctions.
The EU sees the Iran deal as one of the West's biggest diplomatic success stories of recent years. European leaders have expressed concern that the deal's demise would harm efforts to negotiate with North Korea over its nuclear program.
Trump, in an Iran-policy speech on October 13, stopped short of renouncing the 2015 accord, but refused to certify Iran's compliance and said he would ask Congress to strengthen legislation to put additional pressure on Tehran and deny it a "path" to develop nuclear weapons.
EU foreign ministers earlier in the week adopted a statement declaring that the nuclear deal between Iran and six world powers, known as the Joint Comprehensive Plan of Action (JCPOA), is "a key element of the global nuclear nonproliferation architecture and is crucial for the security of the region."
In an open letter addressed to congressional leaders published on Wednesday, they said that it was now upon Congress to keep the U.S. compliant with the the agreement.
"We urge you to uphold the agreement, and not to take any unilateral action that seeks to expand, alter or renegotiate the terms of the JCPOA," the letter reads.
The letter has been signed by 25 former top diplomats from various countries, including former Secretary of State Madeleine Albright, Joshka Fischer of Germany, Hubert Védrine of France, Malcolm Rifkind of UK, and Shlomo Ben-Ami of Israel who had met as part of Aspen Ministers Forum. The foreign ministers' statement also noted that "at a time of acute nuclear threat the EU is determined to preserve the JCPOA as a key pillar of the international nonproliferation architecture."
The letter warned the United States about unilateral withdrawal from the agreement and said it would have "far-reaching adverse consequences for the security of the United States and America's standing in the world."
Such action may result in the emergence of a nuclear-armed Iran in the absence of a consensus among international community to impose previous sanctions on the country. The writers of the letter said that they were troubled by Iran's "destabilizing actions" in the region, including support for terrorism, however, those actions were not part of the nuclear agreement.