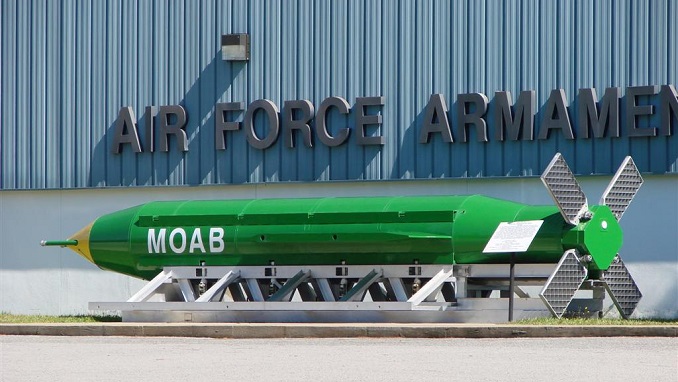 Iran claims to have a weapon even bigger than America's largest ever non-nuclear explosive – dubbed the "Father of All Bombs", Daily Star reports.
President Donald Trump sent shockwaves through the world after the U.S. used its 9.8-tonne Massive Ordnance Air Blast Bomb – also known as "MOAB" or the "Mother of All Bombs" – earlier this year. The device – twice the size of the nuke dropped on Hiroshima – wiped out 36 ISIS jihadis hiding in an underground bunker in one go.
But archenemy Iran now claims to have an even bigger bomb – a 10-tonne whopper it calls the "Father of All Bombs". Brigadier General Amir Ali Hajizadeh, Aerospace Force Commander of the Islamic Republican Guard Corps (IRGC), said: "Following a proposal by the Aerospace Force of the IRGC, [Iran's] Defence Industries [Organisation] manufactured a 10-tonne bomb.
"These bombs are at our disposal. They can be launched from Ilyushin aircraft and they are highly destructive."
Vladimir Putin also has a Father of All Bombs – which is four times as powerful as Trump's MOAB. At 7.8 tonnes, it is lighter than the U.S. bomb – but can create a blast as powerful as 44 tonnes of TNT. That's much bigger than MOAB's 11-tonne explosive yield.
Iran buys arms from Russia – such as the S-300 air defence system finally installed last month. But it appears the Islamic Republic's Father of All Bombs is different from Putin's "Daddy". Hajizadeh said the explosive was made in Iran – not Russia. And it is heavier than both Putin's and Trump's.
Since his election, Trump has hinted he may tear up an agreement Barrack Obama made to end Iran's nuclear programme. The president's administration has accused Iran of breaching the agreement with missile tests and rocket launches. Relations have become frosty once again as Iran cosies up to Putin as they support dictator Bashar al-Assad in Syria. The two old enemies are closer to all-out war than they have been in years.