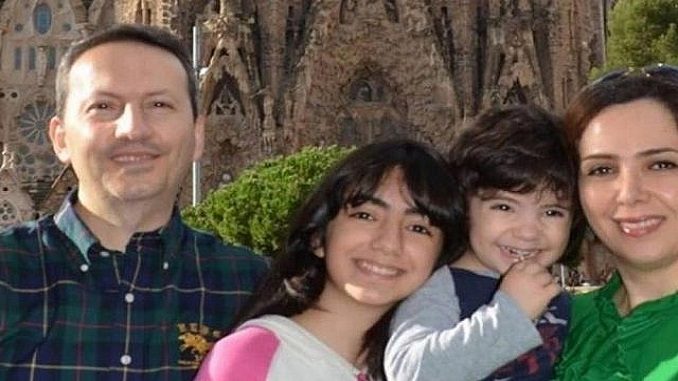 Iran has summoned Sweden's ambassador to Tehran after Stockholm granted citizenship to an Iranian national found guilty of espionage for the Israeli spy agency, Mossad, Press TV reports. Foreign Ministry Spokesman Bahram Qassemi said the ministry called in Helena Sangeland on Monday and served her with a note, communicating the Islamic Republic's "strong protest" over the Swedish government's move, calling the move "unconventional, question-posing and unfriendly."
"Iran's strong protest was conveyed to the Swedish ambassador with regards to the move by the Swedish government to grant nationality to a person who has confessed to spying for Mossad and the Zionist regime and participating in killing Iranian scientists," Ghasemi said in a statement on the ministry website.
Ghasemi emphasized that Iran does not recognize dual nationality and that Djalali will be treated purely as an Iranian citizen.
Ahmad Reza Jalali was arrested in 2016 upon traveling to Iran. Based on his confession, he was convicted of spying for Mossad and complicity in murdering Iranian nuclear scientists. Iran's Supreme Court upheld Jalali's death sentence last December, which was criticized by human rights group Amnesty International as running "roughshod over the rule of law."
Jalali was shown on state TV in December confessing to providing information to Israel's Mossad spy agency about Iranian military and nuclear scientists, including two who were assassinated in 2010. Rights groups have condemned Jalali's detention, saying it follows a pattern of Iran detaining dual nationals and expatriates indefinitely without due process.
Djalali has claimed he is being punished for refusing to spy for Iran while working in Europe. His lawyers say they were blocked from presenting submissions ahead of the Supreme Court hearing.
On Saturday, however, Stockholm confirmed that the Iranian had been granted Swedish citizenship.
"We know that he has been granted citizenship by the Migration Board. We continue in our consular work for Djalali and request consular access to our citizen. We have been in regular contact with Iranian representatives, requested access to Djalali and presented Sweden's view of the death penalty, which we condemn in all its forms. Our demand is that the death penalty is not carried out," a Swedish foreign ministry spokeswoman said.
Speaking to Sweden's Sveriges Radio, a spokesperson for the Swedish Ministry of Foreign Affairs said Dr. Djalali had now been granted citizenship, which is hoped to give Sweden a better position to stand on in its talks with Iran.
"We will continue to stay the course and our demands will not change. We demand that his death penalty not is enforced," the spokesperson said.
Qassemi slammed this measure as "uncommon, questionable, and unfriendly." Qassemi said the Swedish envoy was notified that Tehran does not lend credit to the naturalization and still considers Jalali to be an Iranian national.
"In no country, do they accord dual citizenship in this fashion to a criminal, who has confessed to a murder, and is being held in detention. No country is allowed to interfere in the Islamic Republic's internal affairs under any circumstances," the Iranian official added.
The Swedish ambassador said she would notify her respective government of Tehran's protest.
The sentence has been condemned by the Vrije Universiteit Brussel in Belgium where he was a visiting professor. The European Union has said it is closely following the case. A total of five Iranian scientists — four of them involved in the country's nuclear program — were killed in bomb and gun attacks in Tehran between 2010 and 2012 at the height of tensions over the country's nuclear ambitions.
Iran has accused Mossad and the CIA of ordering the killings. Last March, Iran's envoy to the United Nations atomic agency Reza Najafi said Israel had hired hitmen to assassinate nuclear scientists all over the Middle East, and yet, it continued to receive nuclear cooperation from certain countries.
In January, a book named Rise and Kill First: The Secret History of Israel's Targeted Assassinations by Israeli investigative journalist Ronen Bergman recounted some 2,700 assassination operations by the regime, which, among others, targeted Iranian and German nuclear scientists.