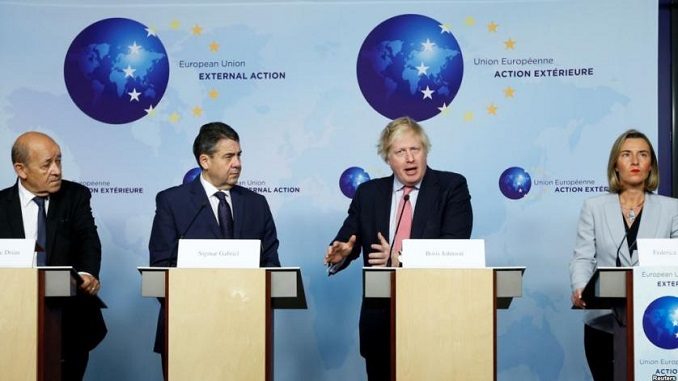 European governments may have found a way to save – or at least sustain – the 2015 nuclear deal with Iran that President Donald Trump has threatened to scuttle, Bloomberg reports.
With Trump vowing to back out of the Joint Comprehensive Plan of Action by May if progress isn't made in toughening some of its terms, officials from France, Germany, and the UK – working with U.S. Secretary of State Rex Tillerson – are focusing on how to restrain Iran's development of ballistic missiles. That could help buy time for the nuclear accord, which international inspectors say Iran continues to abide by.
"We think we can do that – we think we can do that together. It's important we do that in parallel and don't vitiate the fundamentals of the Iran nuclear deal, and we're sure we can do that," UK Foreign Secretary Boris Johnson said at a news conference alongside Tillerson in London on Monday.
European leaders have been spurred to action by Trump's threat, made earlier this month, to back out of an agreement that he's called "the worst deal ever" by May. That's when the next deadline imposed by Congress comes due for him to honor a U.S. commitment under the JCPOA to waive nuclear-related sanctions against Iran.
Trump has suggested he won't carry out that step if the multinational agreement's key flaws can be fixed. Those include the accord's failure to address Iran's ballistic missile development; the fact that some of the most severe restrictions on the Islamic Republic's nuclear program begin expiring within the next decade; and that the agreement doesn't do anything to address Iran's sponsorship of terrorist groups or contributions to regional instability in places such as Yemen.
"This is the last chance. No one should doubt my word," Trump vowed this month.
Focusing on ballistic missiles is an easy choice for European leaders, who are overwhelmingly in support of keeping the nuclear deal intact. Restricting Iranian missile launches and technological development isn't mentioned in the JCPOA. Any agreement wouldn't necessarily require a renegotiation of the original deal, something vehemently opposed by all of the parties to the deal other than the U.S. – Iran, France, Germany, the UK, Russia, and China.
In addition, there is a growing consensus among other nations that Iran is violating a United Nations Security Council resolution urging it not to "undertake any activity related to ballistic missiles" capable of carrying nuclear weapons for eight years from the day the nuclear deal was adopted. Speaking to reporters in Brussels on Monday, French Foreign Minister Jean-Yves Le Drian said Iran "does not respect" that resolution.
Before the 2015 nuclear deal, a United Nations resolution from 2010 stated emphatically that "Iran shall not undertake any activity related to ballistic missiles capable of delivering nuclear weapons." But in the hard-fought negotiations over the nuclear accord, Iran won acquiescence from the U.S. and allies for a UN resolution that simply "called upon" it to refrain from work on such missiles for as long as eight years.
Iran's Foreign Minister Javad Zarif has argued that ballistic missile testing is permitted because the weapons aren't being developed for the purpose of delivering nuclear weapons, which are already banned under the JCPOA. A United Nations diplomat, who asked not to be identified discussing internal policy deliberations, said France, Germany and the U.K. have all told Iran that it must come to the table to address ballistic missile issues.
Last month when Trump called for a renegotiation of the so-called Iran nuclear deal, Tehran, the European Union, Russia and China responded with a chorus of "No! No!" and dismissed Trump's move as "totally unacceptable." With the clock ticking, the thunderous "no! no!" became a sotto voce "well, maybe!"
Last week, EU Commissioner Johannes Hahn surprised everyone by announcing that the Commission, in consultation with Britain, France, and Germany, is "closely studying President Trump's statement and its consequences." More importantly, Hahn revealed that the EU had raised the issue of fresh negotiation during a brief visit to Brussels by the Islamic Republic's Foreign Minister Muhamad-Javad Zarif. Special focus on projected talks would be on "Tensions in the Middle East, Iran's ballistic missiles projects, and end of the year the mass protests in Iran."
The impression that the EU is moving towards Trump's position, at least half-way, was reinforced when, according to the Financial Times, German Foreign Minister Sigmar Gabriel telephoned the U.S. Secretary of State Rex Tillerson to signal EU's readiness to engage Iran in talks on Tehran's missile projects and regional ambitions. Gabriel went further to claim that Iran had expressed its readiness for new talks during Zarif's visit to Brussels.
"The world has three months in which to find a compromise. Trump has said this may be the last time he signs a waiver on the Iran nuclear deal. He could, of course, do a Frank Sinatra and have another last time in three months' time. But that is unlikely. The Europeans, Russia, and China will have to give him something not to throw the whole thing out of the window," says Farid Vashani, an analyst of Iran's foreign relations.
The challenge now will be Iran: In an interview with the Etemaad newspaper in Iran, Deputy Foreign Minister Abbas Araghchi said his country acknowledged there had been an exchange of views with other governments on the issue but stressed that Iran isn't willing to negotiate over ballistic missiles. The country contends it doesn't want a nuclear weapon so any missiles would carry conventional, not nuclear, payloads. Conventional weapons aren't banned.
"Imposing non-nuclear sanctions in the hope of keeping Trump in the JCPOA will result in the opposite," he said. "We have not conducted, nor will we conduct any negotiations to discuss our country's missiles."