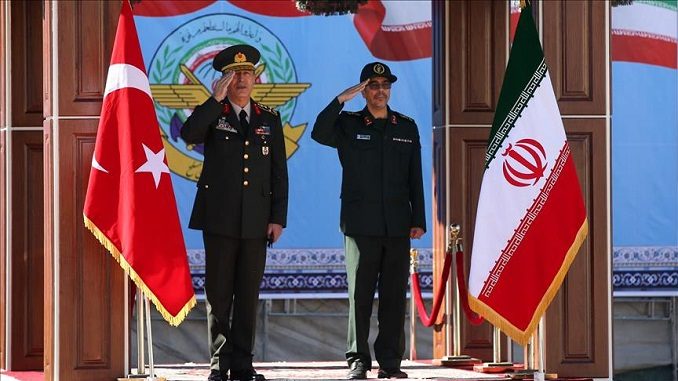 Turkey's Chief of the General Staff, Hulusi Akar arrived in Tehran around midnight on Sunday, in a visit tied to the Kurdish independence referendum, which has rattled both Tehran and Ankara, Press TV reports.
Iranian news agencies reported that General Akar met Iran's armed forces chief of staff, General Mohammad Bagheri Monday morning and the they discussed security of their common borders, as well as regional issues. General Akar's trip to Tehran takes place prior to Turkish president Recep Tayyip Erdogan's planned visit to Tehran this week. He is expected to meet with Iranian President Hasan Rouhani, Defense Minister Amir Hatami and head of Iran's National Security Council Ali Shamkhani during the visit.
Iraq's Kurdish autonomous region held an independence referendum on September 25, which was strongly opposed by Iran and Turkey, as well as many other regional countries and the United States.
Both Iran and Turkey have sizeable Kurdish population that have been restive in the past few decades. A Kurdish insurgency in turkey, which began in the 1980s, left more than 30,000 people dead and still plagues the Southwestern part of the country.
Iranian Tasnim news agency, close to the Islamic Revolution Guard Corps (IRGC) reports that General Akar will follow up on the "agreements reached in Ankara", a reference to meetings he had with Bagheri in August. Tasnim adds that the two military leaders will also discuss "Syria, the fight against terrorism" and border issues.
Iranian news agencies emphasize that this visit is a follow-up to General Bagheri's visit to Turkey in mid-August. But given Erdogan's announced visit to Tehran, Akar's trip is also seen as a preparatory visit.
President Erdogan has announced that he will meet with President Hassan Rouhani and the Supreme Leader Ayatollah Ali Khamenei during his upcoming visit to Tehran.