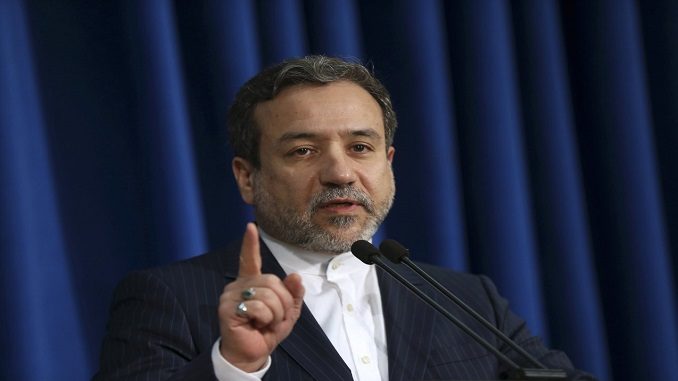 European officials are intensifying their efforts to save the Iranian nuclear deal, opening a new channel to press Tehran to curtail its military involvement in neighboring conflicts just as tensions spiral throughout the Middle East, The Wall Street Journal reports.
European diplomats sat down with a senior Iranian official over the weekend on the sidelines of a major security conference in Munich. They hope to check Iranian activity in Yemen, Syria and other parts of the Middle East as a way to show U.S. President Donald Trump that Iranian expansion can be reversed while sticking with the nuclear agreement.
Trump has threatened to kill the Iranian nuclear deal in May when he must decide whether to keep in place sanctions waivers required under the 2015 agreement. The nuclear deal lifted most international sanctions on Iran in exchange for Tehran tightly restricting its nuclear program. Administration officials have complained the 2015 agreement does nothing to check Iran's regional actions.
U.S. national security adviser Gen. H.R. McMaster on Saturday accused Iran of building a network of proxy forces, like Hezbollah, and arming them with increasingly sophisticated weaponry.
Chaired by the European Union, the meeting on Saturday morning was attended by senior officials from Italy, Germany, Britain and France, and Iran's powerful Deputy Foreign Minister Abbas Araghchi, also a key player in negotiating the nuclear deal. The focus of discussions was the conflict in Yemen, according to Western and Iranian officials. Those officials said talks will likely turn to Syria, the scene of escalating tensions, in particular between Iran and Israel.
European governments, which have strongly supported the Iranian nuclear agreement, have pledged to work with Washington to address nonnuclear concerns, such as Iran's missile program and its regional activities. However, they say this should happen separate from a discussion on the nuclear deal and that they won't renegotiate the 2015 deal.
European and U.S. officials set up working groups last month to discuss these issues. Around the same time, the Europeans agreed with Iranian Foreign Minister Javad Zarif to start discussing regional issues in the new format.
Over the weekend, German Foreign Minister Sigmar Gabriel warned that while the EU would maintain its support for the Iranian nuclear deal, Europe was ready to work with the U.S. against "the destabilizing influence of Iranian policies in the region and to push them back." France has said Iranian firms or people could be targeted with new sanctions over its missile program.
Iranian officials have called on Europe to stick by the nuclear deal. Zarif warned on Sunday that if the nuclear deal is undermined, "Iran will respond, will respond seriously."
Iranian officials said they have long called for more active European diplomacy on regional tensions. However it is unclear whether they will give any ground in talks. While EU economic sanctions give the bloc some leverage, Europe has no significant military presence in the region to curtail Iran's ambitions. On Sunday on his semiofficial Twitter feed, Khamenei lambasted European countries for bowing to U.S. pressure on Iran.
"On nuclear talks, we trusted them. We didn't benefit from that trust," he said of Western governments.
European officials have said that to work with Washington on their concerns about Iran, they expect Trump to end uncertainty over the nuclear deal's fate. Many complain that the U.S. demands for sticking by the deal remain vague. In Munich, U.S. Deputy Secretary of State John Sullivan sought to respond to that. He said that by the time of Trump's next Iran deal deadline on May 12, Washington hoped to win "a commitment that we can…credibly show to the president (that) we're making progress" to address the deal's flaws and Iran's missiles and regional actions.
Meanwhile, Iranian Deputy Foreign Minister for Political Affairs Seyed Abbas Araqchi said a new round of political negotiations between the Islamic Republic and Britain is slated to be held in London on Wednesday. Araqchi said Iran holds periodic talks with many countries around the world, adding that he plans to visit London for political negotiations with senior British officials.
"Such regular meetings are held both in Tehran and London and this time London would host the talks, " he noted.
Araqchi went on to say that during the negotiations, the two sides discuss the latest developments in the Middle East and the world as well as the implementation process of the 2015 nuclear deal between Iran and six world powers, known as the Joint Comprehensive Plan of Action (JCPOA).  Iran and Britain moved to improve relations after finalization of the JCPOA, which came into force in January 2016.