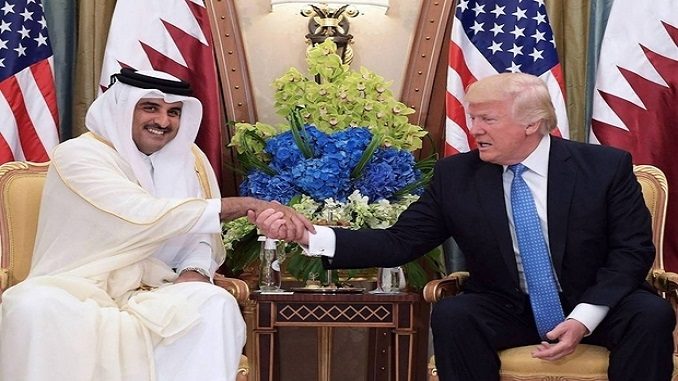 U.S. President Donald Trump stressed on Monday his support for the Gulf Cooperation Council and confronting any regional threats, Asharq al-Awsat reports. He stressed in a telephone call with Qatari Emir Sheikh Tamim bin Hamad al-Thani the need to confront Iranian meddling in the region, as well as fighting terrorism.
A White House statement on the call with Qatari Emir Sheikh Tamim bin Hamad al-Thani said on Monday that Trump praised Qatar for "being one of the few countries to move forward on a bilateral memorandum of understanding" against funding terrorism.
"The leaders discussed areas in which the United States and Qatar can partner to bring more stability to the region, counter malign Iranian influence, and defeat terrorism," it said.
The statement did not address the rift between Qatar and its Arab neighbors, but it said that Trump "reiterated his support for a strong, united Gulf Cooperation Council that is focused on countering regional threats." Trump noted that Doha had signed in mid-2017 a Memorandum of Understanding with Washington on counter-terrorism.
In an apparent shift in the White House's stance on the Gulf crisis, Trump on Monday thanked the ruler of Qatar for "action to counter terrorism and extremism in all forms."  Last year, Trump accused Doha of funding militant groups, saying the Gulf nation has historically supported terrorism "at a very high level."
Saudi Arabia, the UAE, and Bahrain, who along with Qatar are members of the Gulf Cooperation Council, plus non-GCC member Egypt cut off diplomatic, travel and trade ties with Qatar last year, accusing it of supporting militants and Iran. Doha denies the charges. Shortly after the crisis began, Trump appeared to take responsibility for the regional sanctions against Qatar.
"We had a decision to make, do we take the easy road or do we finally take a hard but necessary action. We have to stop the funding of terrorism. I decided … the time had come to call on Qatar to end its funding," Trump said in a news conference on June 9.
During the same period of time, the Pentagon and U.S. State Department made statements favorable to Qatar and called for ending the blockade against it.