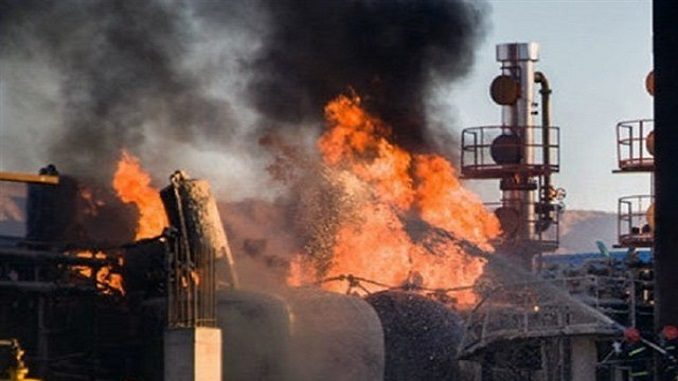 A fire at an Iranian oil refinery in Tehran's Shar-e Rey district , south of the capital, killed six workers and injured two others on Friday but firefighters have brought it under control, Islamic Republic News Agency (IRNA)reported.
Officials said that there was a oil leak in the unit that was undergoing repairs. The incident happened around 4:00 pm local time. Governor of Rey district Hedayatollah Jamalipour told a local TV station:
"When the engineers and technicians were busy repairing a unit of the refinery, leak of oil materials caused a fire and as a result, six engineers and technicians lost their lives and two others were injured. The fire is under control now and other units in the refinery were not affected. The two injured were hospitalized and would hopefully be recovered after receiving treatment, " Jamalipoor said.
Meanwhile, Fars news agency quoted Hamid-Reza Jafari, the head of Tehran Refinery Public Relation Department, as saying that the victims of the accident were still being identified, suggesting that their bodies had been charred beyond recognition.
Tehran's emergency services head, Pir Hossein Kolivand, told state TV that both of the injured workers were in a critical condition, with 90 percent burns. Mehr news agency quoted an eyewitness as saying that one had jumped down to escape the advancing blaze but had been seriously wounded.
Tehran Oil Refining Company is engaged in crude oil and hydrocarbon refining. It produces and processes different oil byproducts. The company is based in south of Iranian capital, Tehran. Tehran Oil Refining Company operates as a subsidiary of National Iranian Oil Refining And Distribution Company, Tasnim News says.
The Tehran Refinery was built in 1968 and has a processing capacity of above 200,000 barrels per day of crude oil piped from Khouzestan province – the heartland of Iran's oil industry.
It saw a massive blaze in January as a result of what media said was a lighting strike at an oil tank, which took 120 firefighters four hours to extinguish. There were no injuries in that incident. In 2016, there were around thirty incidents in the Iranian oil industry and several people were killed and injured.
Iran produces about 64 million liters of petroleum daily and imports 12 million liters to meet domestic demand. The 2015 nuclear deal with world powers, including the United States, has helped necessary equipment to be imported into Iran for its oil infrastructure.
Since sanctions were lifted last year under a 2015 multinational nuclear deal, Iran has signed contracts with foreign firms to repair and modernize its oil refineries, Reuters says.