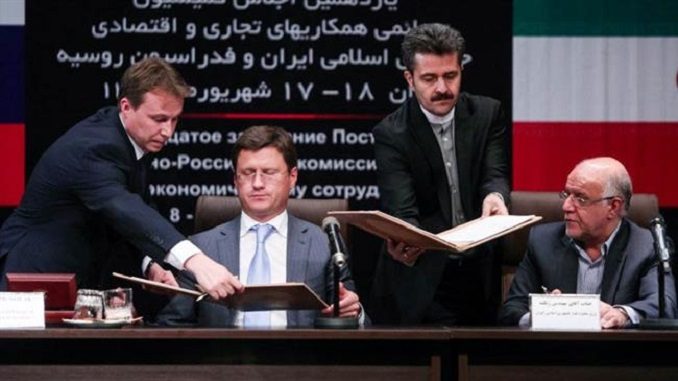 Iran's crude oil exports to Russia under an oil-for-goods barter scheme will begin "in the near future," Deputy Minister of Petroleum Ali Kardor said on Saturday as quoted by Press TV.  He said banking problems related to the exports of Iranian oil to Russia had been resolved, making it possible to open letters of credit (LCs).
The arrangement dates back to 2014 under which Moscow would buy up to 500,000 barrels per day (bpd) of Iranian oil in exchange for Russian equipment and goods. It called for swapping around 300,000 bpd via the Caspian Sea and the rest from the Persian Gulf.
For now, the two sides are considering shipping 100,000 bpd of Iranian oil to Russia, with supplies being "either physical or swap-based," according to Russian Energy Minister Alexander Novak.
Russian oil and gas companies have signed a series of MoUs with Iran where Lukoil, Gazprom, and Zarubezhneft plan to develop Paydar Gharb, Abteymour and Mansouri oil fields. Russia's state-owned Rosgeologia said it was in talks with Zarubezhneft, Gazprom Neft and Lukoil on joint implementation of projects worth $1.5 billion in Iran, Tass news agency reported.
According to the National Iranian Oil Company (NIOC)'s exploration head Seyyed Saleh Hendi, negotiations were underway with Lukoil, Rosneft, Zarubezhneft, Tatneft, Gazprom and Gazprom Neft to turn MoUs to firm contracts for development of more than 10 oil and gas fields in Iran.
He also presented a list of oil fields that are the subject of talks between Iran and the Russian companies: Mansouri, Ab-Teymour, Kish, Yaran, Maroon, Southpars oil layer, Kupal, Aban, Esfandiar, West Paydar, Dehloran, North Pars, Azar, Changuleh and Cheshme khosh.
In Seyyed Saleh Hendi's opinion, the National Iranian Oil Company considers the solutions proposed by Russian oil companies to develop deposits on Iran to be insufficiently effective and asked to improve them.
Tehran is confident about raising more than $20 billion from international companies for its oil and natural gas projects in 12 months, despite facing the shadow of new U.S. sanctions that could throw the nuclear deal into peril and ward off foreign investment.
In an interview with Financial Times, Iran's deputy oil minister for international affairs, Amirhossein Zamaninia, said the country is negotiating with the world's largest energy companies to develop its oil and gas fields.
"Any international oil company that you know, we are negotiating with, except the Americans," he was quoted as saying on Thursday.
Nearly 18 months after Tehran's nuclear pact with the world came into force, Iran sealed a $5 billion deal with French energy group Total S.A. to develop a major offshore gas project in the Persian Gulf.
Iran has "almost regained" its crude oil market share, pumping over 3.8 million barrels per day now from 2.4 million bpd under sanctions.
Iran has been re-entering the global oil market since January 2016, when the EU, the United Nations, and the U.S. lifted their sanctions against the Islamic republic after the International Atomic Energy Agency (IAEA) verified Tehran's compliance with the nuclear agreement reached in July 2015.
However, Iran is a part of the Organization of the Petroleum Exporting Countries (OPEC) and non-cartel producers' oil output cut deal reached in 2016, which is tightening the growth of Iranian oil production.