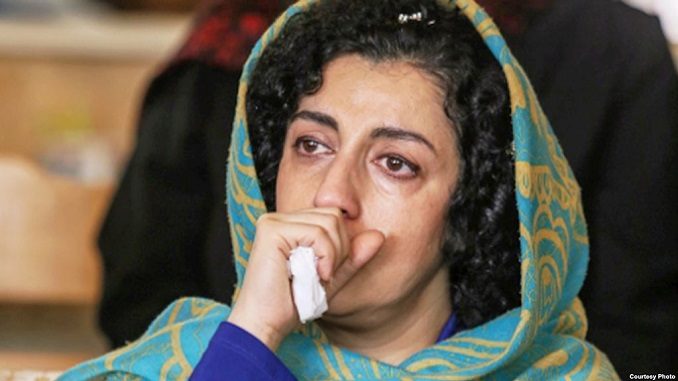 American Physical Society, APS has awarded Prisoner of Conscience and deputy president of the Center for Human Rights Defenders, Narges Mohammadi its prestigious Sakharov Prize 2018, the society's website reports.
Praising Mohammadi, who is currently behind bars doing serving a long sentence in Tehran's notorious Evin prison, APS has averred that she was awarded the prize "for her leadership in campaigning for peace, justice, and the abolition of the death penalty and for her unwavering efforts to promote the human rights and freedoms of the Iranian people, despite persecution that has forced her to suspend her scientific pursuits and endure lengthy incarceration."
Mohammadi, who has also won the 2011 Per Anger Prize for defending human rights in Iran, was first arrested in 2009 and sentenced to 11 years in prison on charges of "assembly and collusion against national security," "membership in the Defenders of Human Rights Center," and "propaganda against the state."
Upon appeal, her sentence was reduced to six years behind bars and she was released from Zanjan Prison in 2013 on medical grounds, Center for Human Rights in Iran (CHRI) reported.
Mohammadi was arrested again on May 5, 2015, two months after meeting with Catherine Ashton, the European Union's foreign policy chief at the time, at the Austrian Embassy in Tehran to discuss the situation of human rights in Iran, CHRI said in a statement.
In September 2016, Branch 26 of the Tehran Appeals Court upheld a 16-year prison sentence for "membership in the [now banned] Defenders of Human Rights Center," "assembly and collusion against national security," and one year for "propaganda against the state."
After Hassan Rouhani's second-term victory in Iran's May 2017 presidential election, Mohammadi called on him to build the foundations for civil society in Iran.
"As a citizen who voted for you, I should and will be insistent on seeking my demands. I am an imprisoned civil rights activist, but I am not asking you to free me. I want to see [the dream for] a civil society come true. That is my demand," she wrote.
Just two weeks ago, Mohammadi has called on members of Iran's Parliament to investigate and end the "illegal" practice of solitary confinement of prisoners.
"As a defender of human rights who has been tortured by this practice, I consider it my duty to take every opportunity to express my protest against solitary confinement, the suffering victims of which I continue to see in Evin Prison," wrote Narges Mohammadi in a letter from the prison where she is serving a 16-year sentence for peacefully advocating for human rights.
The letter, published by the Defenders of Human Rights Center on October 8, 2017, addressed members of Parliament's Article 90 Committee, which is authorized by the Constitution to investigate citizens' complaints against the executive, legislative and judicial branches of state.
In her letter, Mohammadi mentioned 15 other cellmates who she said have spent a total of 140 months in solitary confinement throughout different periods of their incarceration. She also listed examples of abuse and suffering that she said have occurred while prisoners have been held in solitary confinement:
Defenders of Human Rights Center is an entity founded by the first Iranian and Muslim woman Nobel Peace Prize winner, Shirin Ebadi. Ebadi, after her life was threatened, was forced to leave Iran and live in Exile.
Mohammadi will be eligible for release after serving 10 years in prison, CHRI has noted. Prominent human rights organizations, including Amnesty International, Human rights Watch (HRW) and CHRI have repeatedly called for Mohammadi's immediate release.