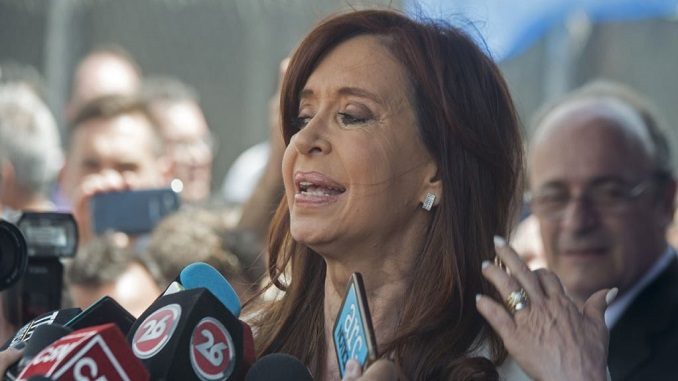 Once one of Latin America's most prominent leftists and the world's most powerful women, former Argentine President Cristina Fernandez now faces a fight to stay out of prison after she was indicted on Thursday on charges of high treason and trying to cover up Iran's involvement in a 1994 terrorist bombing, The Washington Times reports.
As Fernandez vowed to fight the charges, federal Judge Claudio Bonadio asked Congress to strip her of immunity preventing her arrest.
"Using 'private channels of communication and negotiation' with Tehran, Fernandez concocted an 'orchestrated criminal plan' to shield the Iranian nationals behind the attack on the AMIA Jewish community center, which killed 85," Judge Bonadio wrote.
Adding even more intrigue to the case is that fact that Thursday's charges largely build on a case filed by the late special prosecutor Alberto Nisman, whose mysterious death from a gunshot wound – hours before he was set to testify before Congress in January 2015 – had rocked Argentina at the height of Fernandez's power.
The judge focused heavily on the circumstances leading to the 2013 so-called "memorandum of understanding" between Argentina and Iran, which the judge – detailing secret, high-level talks in Syria and Switzerland – concluded was all but dictated by Tehran.
"Foreign Minister Timerman, a person who lacks even basic university education … claims he drafted it in a hotel whose name he does not recall and accompanied only by his Iranian counterpart, Foreign Minister [Ali Akbar] Salehi. Conclusion: Either Hector Timerman lies, which is serious, or the 'memorandum of understanding' was drafted by Iran and signed, just like that, by Timerman," the judge wrote.
Fernandez is facing accusations of treason and plotting a cover-up for signing a 2012 pact with Iran that would have allowed senior Iranian officials accused in the deadly attack to be investigated in their own country, rather than in Argentina.
Fernandez, Argentina's president from 2007 to 2015, allegedly received oil and trade benefits from Iran in exchange for signing off on a deal that enabled the suspects to avoid prosecution. In early 2013, Argentina's congress approved, at the request of the executive branch, an agreement with Tehran to form a truth commission to investigate the bombing.
Leaders of Argentina's Jewish community, which at 300,000 people is the largest in Latin America, have criticized the accord. In 2014, an Argentine court declared the agreement to be unconstitutional.
Bonadio demanded their immediate "preventive arrest" in connection with the alleged murder of a prosecutor investigating their ties to Iran and efforts to shield those allegedly responsible for the bombing of a Jewish community center in 1994. If convicted of treason, Fernandez, who left office two years ago, along with her foreign minister, Héctor Timerman, and three associates could spend the rest of their lives in jail.
The dramatic headlines Argentinians awoke to on Thursday have provoked massive public expressions of joy and relief on one side of the fractured political aisle, and furious accusations of politicization and treachery on the other. And downtown Buenos Aires streets quickly turned into an dense maze of crowds and protests. Bonadio is unlikely to feel intimidated. He is best known for an incident in which, assaulted on the street, he pulled out his personal weapon and shot his assailant dead.
Ricardo Saénz, an Argentine federal prosecutor, says "this was all along the worst case alleged against her. All the corruption files deal, at the end of the day, with money. But this would have cemented impunity for the masterminds of the terror attack on AMIA. This is entirely a different category of crime, a government acting in a way that is practically inconceivable, negotiating impunity for masterminds of terror." The arrests, Saénz says, were predictable.
"This is a very severe crime."
The bombing of the Argentinian Israelite Mutual Association (AIMA) community center in Buenos Aires, which killed and wounded more than 300 people, was Argentina's worst terror attack. AMIA is the Spanish-language acronym for the main Jewish community center in Buenos Aires that was demolished by a bomb in July, 1994. Eighty-five Argentine citizens were killed and hundreds were injured.
Argentinian investigators accused five former Iranian officials — including former President Akbar Hashemi Rafsanjani, who is now deceased, former Foreign Minister Ali Akbar Velayati, and ex-Revolutionary Guards commander Mohsen Rezaie — of ordering Tehran's Lebanese Shi'ite ally Hizballah to carry out the bombing. Iran denies any involvement.
Fernandez said in court earlier this year that the deal with Tehran – which was passed by the Argentinian parliament but not by Iran's legislature – "had one aim: to allow an investigation into the Iranians accused in the AMIA attack, so that the case could move forward." She argued that since Iran and Argentina had no extradition agreement, and Argentina does not carry out trials in absentia, there was no other way to proceed with the investigation.
Fernandez said on December 7 that the deal with Iran "was an act of foreign policy that cannot be prosecuted…. From the legal point of view, it is nonsense" to suggest signing the deal amounted to "treason," she said.
"The case was absolutely paralyzed because Iran does not extradite its compatriots. What we did was to act within the framework of international law," she said.
Bonadio wrote in his ruling that evidence showed the deal was part of "an orchestrated criminal plan" to cover up the alleged involvement of Iranian officials in the attack in return for lucrative trade deals with the Islamic republic.  Moreover, he said, Iran through the agreement appeared to achieve its goal of avoiding being declared a "terrorist" state by Argentina.