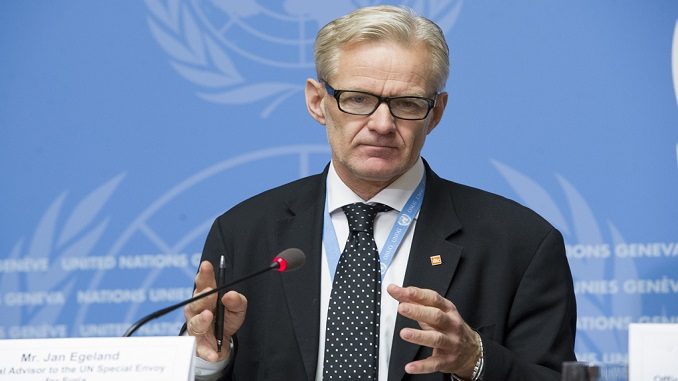 The UN's humanitarian coordinator for Syria has rebuked Russia and Iran for not doing more to give aid agencies access to a besieged rebel enclave. Jan Egeland told the BBC the failure to persuade the Syrian government, their ally, to allow desperately ill children to be evacuated from the Eastern Ghouta showed "complete impotence."
Another two civilians died this week while waiting for permission to leave. Some 400,000 people are trapped in the area, which is just outside Damascus. Dozens of civilians are also reported to have been killed in air and artillery attacks by government forces in the past month, though a ceasefire is now in place.
Food shortages have led to the acute malnutrition rate among children in the Eastern Ghouta rising to 11.9% – five or six times what was reported in January, and the highest so far recorded in the country since the civil war began in 2011. Limited electricity, fuel, safe drinking-water and basic sanitation services are meanwhile increasing the risk of outbreaks of diarrheal diseases.
Egeland was visibly angry when discussing the inability of the UN and its partners to evacuate people with life-threatening medical conditions from an area only 30 minutes' drive from Damascus. He listed examples of children who he said would die unless they got medical help – Noor, two months old, with a rare form of cancer; and Mohammed, 45 days old, with kidney failure.
"We made the lists of patients. We submitted the first ones in May. We resubmitted in September, October, and in November we got Russians and Iranians and Chinese and Americans and others to say they would work on this. We have collectively failed. It's not good. They are not able to help us deliver. And I cannot understand that leaders, diplomats, generals who have been able to fight a tremendous war that they seem to be winning, and then they are not able to help us evacuate children. There's no other way to say it but those who can influence the government have not done their job. And that was to help facilitate our action through diplomatic initiatives," Egeland said.
Egeland, who is secretary general of the Norwegian Refugee Council, said he would press the cases of the 494 men, women and children in urgent need of medical evacuation in meetings with Russian, Iranian and U.S. officials in Geneva.
"My message to them is the following: if you're spending billions and billions of roubles, you have Iranian resources, and you have thousands of soldiers on the ground, and you're flying airplanes in the air, you have to be able to deliver this. If not, in my view, [you] show complete impotence, and you also show a lack of interest in humanitarian law and in saving civilian life."
Joint UN and Syrian Red Crescent aid convoys have only been able to deliver enough food and medical supplies for 68,000 of the 400,000 civilians trapped in the Eastern Ghouta over the past two months. That is despite the area, which has been besieged since 2013, being designated as a "de-escalation zone" by Russia, Iran and Turkey, which supports the opposition.