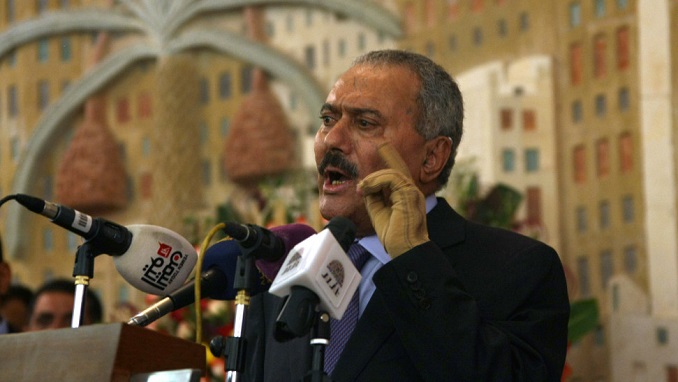 Ali Abdullah Saleh, former President of Yemen has ordered the arrest of Houthi group gunmen suspected of the murder of one of his top aides last week, Middle East Online reports.
The late Saturday violence between the Iran-affiliate Houthis and the Saleh supporters marked strains with the major political coalition fighting the government of President Abd-Rabbu Mansour Hadi. The murder of Colonel Khaled al-Radi, a senior member of Saleh's General People's Congress (GPC), was followed by a clash in the capital Sana'a in which two members of the Houthi group were also killed.
The Houthis and the GPC together rule northern Yemen and have maintained an uneasy alliance in a conflict that has killed at least 10,000 people and unleashed hunger and disease Saleh ran Yemen for three decades. A mass rally to commemorate his party's founding anniversary last week angered Houthis, who viewed it as a show of force meant to undermine them. Tensions escalated over two days later when Houthi fighters set up a security checkpoint near the home of Saleh's son, Salah, and his media office in Hadda district in southern Sana'a, where Radi was killed.
"He stopped to see the commotion, when my son Salah, had been stopped and searched and they (checkpoint guards) demanded his weapons and his ID card …," Saleh said in his speech, according to a transcript published on the GPC's website.
Saleh noted that his son left in a vehicle, and Radi was standing on the sidewalk where he was later shot dead.
"The political leadership … must take responsibility and accelerate the investigations and the arrest of the perpetrators and bring them to justice," Saleh told the crowd, referring to the Houthi-led government.
Both sides stated Tuesday that had agreed to lower tensions and allow authorities to investigate the case. Although the clashes have ceased, fighters from both sides are still deployed in some buildings and back streets.
A Saudi-led coalition intermediated in the war in 2015 in a move to restore Hadi's government to power in Sana'a after the Houthis seized the capital and entered into alliance with Saleh.