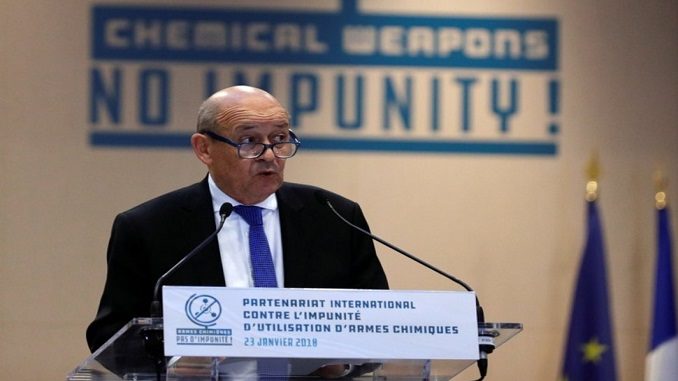 French foreign minister Jean-Yves Le Drian said on Wednesday that all Iranian militia, including Hezbollah, must leave Syria, whose civil war has thrown the Middle East into turmoil, Arab News reports.
Asked in an interview on BFM TV whether he wanted Turkish armed forces to withdraw from Syria, Le Drian replied that he wanted "the withdrawal of all of those who ought not to be in Syria, including Iranian militia, including Hezbollah." Le Drian also said that "all indications" suggest the Syrian regime is using chlorine weapons in its nearly seven-year civil war against rebel forces.
"All indications… tell us today that chlorine is being used by the regime at present in Syria," Le Drian told BFM television.
The French FM also said that Turkey and Iran were among those violating international law by their actions in Syria and warned that Ankara should not add "war to war".
"Ensuring the security of its borders does not mean killing civilians and that should be condemned. In a dangerous situation in Syria, (Turkey) should not add war to war. International law "is being violated by Turkey, by the Damascus regime, by Iran and those who are attacking eastern Ghouta and Idlib," Le Drian told BFM TV.
Hezbollah formally announced their entry into the Syrian civil war in 2013. Hezbollah Secretary-General Sayyed Hasan Nasrallah said in a recent interview that Hezbollah would remain in Syria until their role there is completed.
France's foreign minister said on Wednesday that Turkey and Iran were among those violating international law by their actions in Syria and warned that Ankara should not add "war to war". France is part of a U.S.-led coalition of over 70 nations that have been conducting operations against the terrorist group Daesh (ISIS) in Syria without either the government's approval or a UN mandate.
Previously in January, Le Drian said in an interview with daily Le Figaro that he would visit Iran on March 5 after he had postponed a trip to Tehran earlier this month over anti-government protests in several Iranian cities.
"We have embarked upon a dialogue with Iran on the issue of ballistics and regional questions," Le Figaro quoted Le Drian as saying.
He said he would raise Iran's "destabilizing military influence in the Middle East", notably its support for Lebanon's "Hezbollah" and Yemen's Houthi militias.
"That is why … I shall go to Iran on March 5," said Le Drian, who will hold talks with counterpart Mohammed Javad Zarif.
U.S. President Donald Trump made an ultimatum to Britain, France, and Germany on January 12 to "fix" the 2015 nuclear deal with Iran or he would withdraw. The European Union has defended the accord, warning that abandoning it would be a mistake.
"If Iran wants to return to the concert of nations, it must cooperate on these questions. Otherwise, it will with reason always be suspected of wanting to develop nuclear weapons," said Le Drian.
Iran has been accused by the U.S. and some of its allies, including Israel, of providing arms to the Hezbollah movement fighting terrorists alongside the Syrian army, however, Tehran denied the claims, though admitted its political support for the Shi'ite movement, which is included in the Lebanese parliament.
Previously, the French top diplomat criticized alleged "Iranian presence and the desire to make an axis from the Mediterranean to Tehran," a claim repeatedly denounced by the Islamic Republic. Iran has repeatedly refuted accusations of a desire to establish a military base in Syria, however, confirmed sending military advisors to help Damascus fight terrorists.
Tensions between Iran and France have increased since the end of 2017 after French President Emmanuel Macron had said that Tehran should be "less aggressive" in the region and clarify its ballistic missile program. The statement has also been echoed by Le Drian, who denounced Iran's alleged "hegemonic temptations" during a visit to Saudi Arabia.