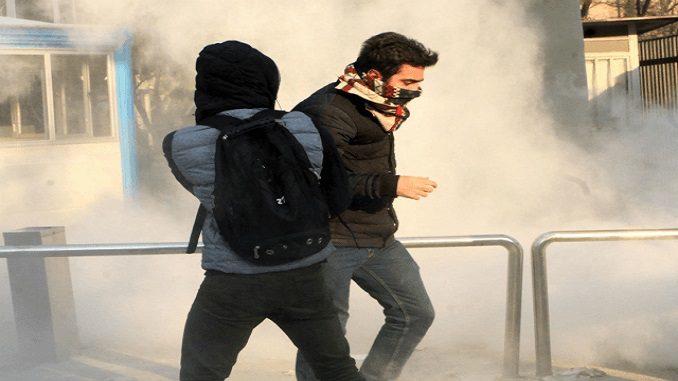 A video surfacing on social media appears to show protesters in Iran apprehending an Islamic Revolutionary Guard Corps (IRGC) member and taking his pants off amid increasingly violent protests against the regime. The video, published by Iranian analyst Raman Ghavami on Twitter, reportedly originated in Kermanshah, a city with a large Kurdish population.
The UK Telegraph, which also published the video, reported that the soldier in question was part of the Basij militia wing of the IRGC and was reportedly swinging an electric shock baton when the crowd of angry protesters closed in around him.
"They got a Basij, hold him!" one man says as demonstrators seize the militiaman's baton, before knocking him to the ground. But rather than beat the man to death, the crowd struck a different kind of blow against Iran's authoritarian regime: they stripped him of his trousers and sent him stumbling and humiliated into the cold night.
The Basij began as an independent paramilitary but was merged with the IRGC in the 1980s and now consists of volunteer fighters.
"About one hour ago protesters were attacked by Basij (IRGC) forces in #Kermanshah but people resisted, took one hostage, took his trousers and let him go. This is going to be a tactic against IRGC forces all over the country when protesters get attacked. The protesters wanted to show that they are peaceful but that they are not weak and they are not afraid," Ghavami wrote.
Protesters have increasingly been met with state-sponsored violence as people take to the streets to voice their opposition to the country's governing Islamist dictatorship and its supreme leader, Ayatollah Ali Khamenei. The violent demonstrations which began last Thursday initially as a response to rising food prices have become the largest protests in Iran since the disputed 2009 presidential election.
The number of people killed has now risen to at least 21 amid further clashes with security forces on Monday night. "Death to the Dictator," "Death to Rouhani," "Don't be afraid, we are all united," and "Political prisoners should be freed" are a few of the chants used by the nation's mostly secular youth, who are seen as a driving force behind the movement.
Iranian authorities have restricted access to social media over fears it could be used to organize and incite further civil disobedience, as it was used during the 2011 Arab Spring. Ayatollah Ali Khamenei has blamed the crisis on Iran's "enemies," without specifying which enemies are behind the protests.
"In recent days, enemies of Iran used different tools including cash, weapons, politics, and intelligence apparatus to create troubles for the Islamic Republic," Khamenei said at an event commemorating the Iran-Iraq war on Tuesday. He promised that he would elaborate on his statements "when the time is right."
The head of Tehran's Revolutionary Court has warned that protesters could face sentences as severe as the death penalty when their cases come to trial.