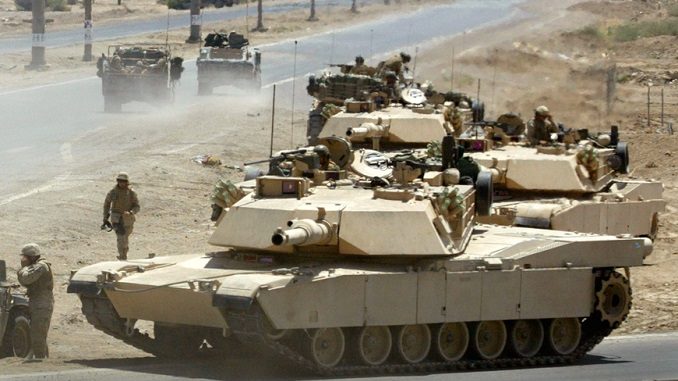 As many as nine U.S. tanks provided to Iraq's military for the fight against the Islamic State (IS) have ended up in the hands of Iranian-backed militants, a government audit revealed on Monday, Al-Monitor reports.
The latest quarterly inspector general report for the U.S. mission in Iraq and Syria confirms a string of on-the-ground reports that M1 Abrams battle tanks and other lethal equipment provided by the U.S. government have ended up with the Popular Mobilization Units (PMU).
The news adds credence to recent reporting by Iraq's Al-Ghad news agency that Abrams manufacturer General Dynamics has suspended maintenance support for 160 of its tanks amid allegations that the Iraqi Security Forces (ISF) broke an agreement on their use.
The challenge of keeping U.S.-supplied weapons and equipment out of the hands of groups with ties to Iran has grown over the course of the three-year mission, the report said, even as the State Department has continued to push Prime Minister Haider al-Abadi's government to keep U.S. arms confined to ISF units. In December, Abadi announced plans to cut back the Iranian-backed PMU, taking away some arms and vehicles.
This isn't the first time that U.S. weapons, including vehicles, have found their way to Iran-backed groups. In 2015, Iraqi Hezbollah brigades showed up in YouTube videos driving American-made M1 Abrams tanks, armored personnel carriers, Humvees and Canadian MRAP all-terrain vehicles, sparking concerns from Senate Armed Services Committee Chairman John McCain.
The latest finding, disclosed by a State Department office that tracks U.S. arms deliveries, is raising new questions among congressional oversight committees and weapons experts. One of their chief concerns is that Iran, which introduced complex improvised explosive devices into the Iraqi conflict, may pore over U.S. military technology to look for battlefield flaws.
"Is there any sensitive technology that could be reverse engineered, picked apart and then used by the Iranian military to attack U.S. armor? That may be the bigger concern than militias driving around in tanks," Matt Schroeder, a senior researcher for Small Arms Survey, told Al-Monitor.
The news comes as the United States appears set to begin withdrawing some of its 5,200 troops from Iraq as the Pentagon refocuses on the fight in Afghanistan. It's not yet clear how that shift will impact the defense bill signed by President Donald Trump in December, which authorized $1.3 billion to train and equip the Iraqi military for the next year.
Testifying before the House Armed Services Committee this summer, Army Colonel David Navratil, then the Pentagon's director for Iraq, acknowledged that some U.S. equipment "has more than likely found its way into enemy hands."
The State Department gave Iraq's military $3.8 billion from 2015 to 2017 as it cleared out IS strongholds such as Mosul, Tal Afar, and Fallujah. Iraq's military now possesses more than 250 battle tanks and 1,000 armored personnel carriers.
But even as support to Iraq's military increased to root out IS in urban centers, the Defense Department has had limited "direct insight" into how effective more than 120,000 U.S.-trained troops in Iraq will be, according to the inspector general report. That's "mainly because the U.S. military relied on Iraqi information and self-reporting to determine the skill and readiness of ISF troops," the report found.
While Pentagon officials regularly describe the ISF and Iraq's elite Counterterrorism Service as "combat-ready," U.S. troops collect limited firsthand data on Iraq's ability to fight off the remnants of IS and other militant groups. U.S. advisers, meanwhile, are usually embedded "only at higher levels" away from combat.
"The [Department of Defense] continued to rely on Iraqi information and self-reporting to assess the capability and readiness of the ISF, particularly at the tactical level," said the report.
Because of the lack of firsthand reporting on Iraq's train and equip effort, Defense Department officials relied on meetings with Iraqi military leaders for information. But those meetings often did not provide "enough data available to gauge the accuracy or reliability of details" on the readiness and capability of Iraqi troops to fight.