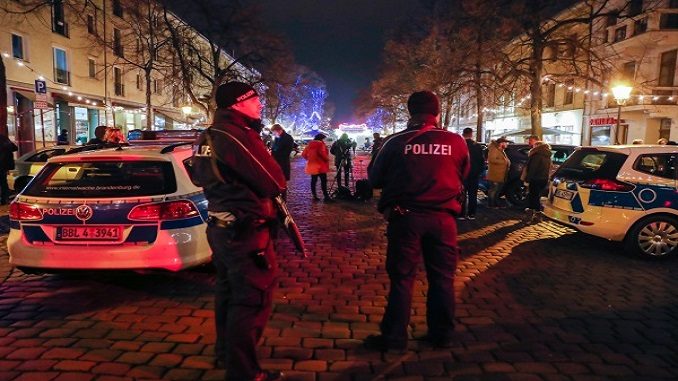 German authorities are conducting searches countrywide in connection with 10 suspected Iranian spies, The Washington Post reports. A spokesman for the Federal Prosecutors Office says the suspects are believed to have "spied on institutions and persons in Germany on behalf of an entity associated with Iran."
The spokesman, Stefan Biehl, told The Associated Press that Tuesday's raids were prompted by a tip from Germany's domestic intelligence service. He declined to comment on a report by weekly magazine Focus that the suspects were spying on Israelis in Germany.
"We believe the suspects spied on institutions and persons in Germany at the behest of an intelligence unit associated with Iran. The investigation was prompted by a tip from Germany's domestic intelligence service," spokesman Stefan Biehl told The Associated Press, adding that no arrests had been made yet.
According to The Jerusalem Online, the Iranian agents who were reportedly spying on Israeli targets were arrested on Tuesday in Germany. The arrests took place as security forces raided the homes and apartments used by the Quds Force agents.
The German Bild newspaper reported that the agents had been collecting information on Israeli targets in Berlin, Baden-Baden, and Bavaria, according to Israel Television News Company.
The spies are members of Iran's Quds Force—the Islamic Revolutionary Guard Corps' elite unit that is in charge of the organization's foreign operations. While German security officials confirmed the arrests during a press conference earlier today, the news report claiming that the agents were collecting information on Israeli targets has not been confirmed.
Germany said two weeks ago it had summoned Iran's ambassador to reprimand Tehran against spying on individuals and groups with close ties to Israel, calling such acts a completely unacceptable breach of German law.
The move comes after the March conviction of a Pakistani man for spying for Iran in Germany went into force. Mustufa Haidar Syed-Naqfi was convicted of gathering intelligence on Reinhold Robbe, the former head of the German-Israel Friendship Society, and an Israeli-French economics professor in Paris, for Iran's elite Revolutionary Guards.
The Foreign Ministry summoned the Iranian ambassador to deliver the unusually sharp rebuke once the German constitutional court rejected his appeal. The meeting took place on Dec. 22 but was not disclosed until now.
"Spying on people and institutions with special ties to the state of Israel on German soil is an egregious violation of German law," a ministry official said.
The official said Philipp Ackermann, acting director of the Foreign Ministry's political section, had told the Iranian ambassador that "such activities would not be tolerated and were completely unacceptable".
Germany has played a key role in European efforts to persuade Washington to keep the nuclear accord in place, an issue that will come up again late this week when U.S. President Donald Trump must decide whether to reimpose oil sanctions lifted under the agreement.  Germany's domestic intelligence service, which handles counterespionage, highlighted Iran's spying activities in its annual report in July, noting that Tehran was focused heavily on Israeli or pro-Jewish targets.
Last April, federal prosecutors filed charges against two men suspected of spying on the opposition People's Mujahedin of Iran (MEK) on behalf of Iranian intelligence. The Paris-based MEK is an Islamist-Marxist-feminist militant group seeking to overthrow Iran's theocratic government. The Iranian government blamed the group for stirring up unrest earlier this month in Iran.
Formerly listed as a terrorist organization by the EU and United States, the MEK has also been accused of carrying out covert operations on behalf of Israel and the United States. Iran has been accused of assassinating multiple dissents, mostly Kurds and MEK members, throughout Europe.
A Quds Force-affiliated agent pleaded guilty in 2012 to plotting to assassinate the Saudi ambassador to Washington, DC.
Iran and its Lebanese Shi'ite ally Hezbollah have also been accused of carrying out multiple deadly attacks on Jewish and Israeli targets abroad. In 1992, four Iranian-Kurdish opposition leaders were assassinated in a Berlin restaurant by Iranian agents. Two Iranian men and a Lebanese citizen were found guilty of the crime and sentenced to life in prison. Two of them were later released from prison in 2007. The assassination in Berlin and another three years earlier against Kurdish dissidents in Austria occurred at a time when the Democratic Party of Iranian Kurdistan was leading a low-level insurgency in Iran.
The same year a series of explosions in Bangkok, Thailand, injured five people in what Thai authorities said was a failed attempt to target Israeli diplomats. Two Iranians were arrested and convicted over the bombings, including one who lost his legs when a grenade he threw at pursuing police bounced back at him. Arrest warrants were issued for several other Iranian nationals, some of whom were believed to have escaped to Iran.