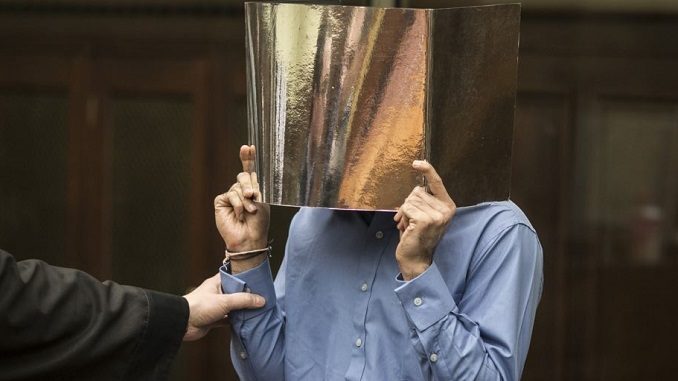 Germany has summoned Iran's ambassador in Berlin to warn Tehran against spying on individuals and groups with close ties to Israel, saying such acts violate German law, RFERL reports. News of the meeting came out in media reports on January 9 after a Pakistani man's appeal of his conviction in March of spying for Iran was rejected by the German Constitutional Court.
Mustufa Haidar Syed-Naqfi was convicted of gathering intelligence on Reinhold Robbe, the former head of the German-Israel Friendship Society and an Israeli-French economics professor in Paris, for Iran's Islamic Revolutionary Guards Corps. After the conviction, Robbe accused Tehran of plotting to have him murdered and demanded that Berlin call Iran to account, according to German media.
"Spying on people and institutions with special ties to the state of Israel on German soil is an egregious violation of German law," a ministry official said on January 9, noting that Iranian Ambassador Ali Majedi was summoned and given a warning on December 22.
The official said Philipp Ackermann, acting director of the Foreign Ministry's political section, told Majedi that "such activities would not be tolerated and were completely unacceptable." Germany's Sueddeutsche Zeitung reported that the Iranian ambassador was warned that spying on Israel would "have negative consequences on bilateral relations between Germany and Iran."
News of the meeting comes days before the foreign ministers of Iran, Germany, France and Britain are due to meet in Brussels to discuss a 2015 landmark nuclear agreement with Iran, and growing concerns about Iran's crackdown on anti-government protesters.
Germany, which helped negotiate the nuclear deal, has sought to balance its interest in expanding trade ties with Iran with its strong commitment to human rights. It has played a key role in European efforts to persuade Washington to keep the nuclear accord in place, an issue that will come up again late this week when U.S. President Donald Trump must decide whether to reimpose oil sanctions lifted under the agreement.
Germany's domestic intelligence service, which handles counterespionage, highlighted Iran's spying activities in its annual report in July, noting that Tehran was focused heavily on Israeli or pro-Jewish targets.
The German government is under intense political pressure to toughen its stance on Iran as opposition politicians demanded prosecution of a senior cleric who is visiting the country and Tehran's ambassador was confronted with allegations of a spy ring run by Tehran.
As Germany's Sigmar Gabriel and other European foreign ministers meet with Iran's Javad Zarif on Thursday in Brussels, there is a fierce controversy raging in Europe's largest nation over the deadly crackdown on protests that has killed 22.
The meeting between Zarif and the three European parties to the landmark 2015 agreement comes after Iran warned the world on Monday to prepare for the withdrawal of the United States.
Meanwhile, Germany's federal prosecutor's office is examining whether to bring charges against a senior Iranian cleric who has been mentioned as a possible future Iranian supreme leader and who is receiving medical treatment in Germany.
A spokesman for the prosecutor's office on January 9 acknowledged receiving a complaint filed against Ayatollah Mahmoud Hashemi Shahroudi by a former German lawmaker, whose complaint accuses the cleric of committing "crimes against humanity" during his decade overseeing hundreds of executions as the head of Iran's Justice Ministry.
The prosecutor's office did not say how long it would take to determine whether it will act on the complaint from former Green Party lawmaker Volker Beck.
"It would be a big mistake if the federal government provides diplomatic immunity here to the organizer of mass murders through Iran's justice system. Germany should not be a sanctuary for such people, who in their country persecute people for political or religious reasons and threaten them with death. The Iranian regime persecutes women who were raped, homosexuals, Baha'is, Kurds, and atheists," Beck told The Jerusalem Post, explaining the reasons behind the complaint he filed against Shahroudi.
The Jerusalem Post reported that the prosecutor in the German province of Lower Saxony, where Hannover is located, is also considering whether to pursue a criminal complaint filed against Shahrudi in that jurisdiction.