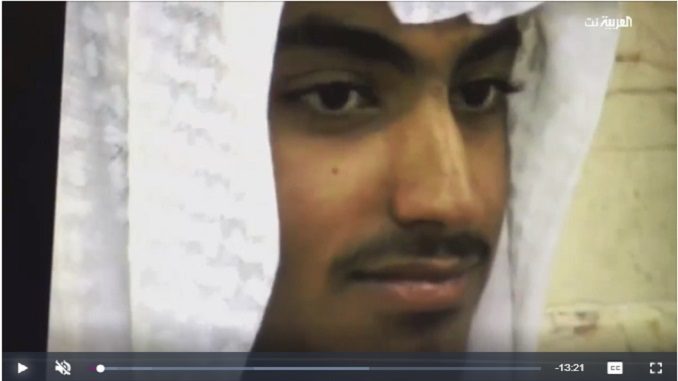 Al Arabiya has received new footage and details surrounding the wedding of Hamza bin Laden, the son of al-Qaeda extremist group's mastermind Osama, when he was 17 years old in Iran. The younger bin Laden is said to have married the daughter of al-Qaeda's second-in-command and deputy to current leader Ayman al-Zawahri, Abdullah Ahmad Abdullah, nicknamed "Abu Mohammed al-Masri". The clip, which Al Arabiya was briefed on its details, was among the latest documents released by the CIA in regards to the Abbottabad files.
The video clip was released along with hundreds of thousands of other documents, images, and computer files that were housed on a computer at Osama bin Laden's compound in Pakistan. The device was seized by the U.S. military in the 2011 raid on the compound during which the al-Qa'eda founder was killed.
Hamza bin Laden's wedding is estimated to have been held in 2005, four years after September 11 attacks and around the same time when al-Qaeda leaders had sought refuge in Iran.
VIDEO: #HamzabinLaden wedding tapes show him surrounded by his brothers in #Iran, among them Saad bin Laden who was killed in a US drone strike in 2009.

Read more: https://t.co/mqlCqePcfr pic.twitter.com/6adiuOG1i7

— Al Arabiya English (@AlArabiya_Eng) January 19, 2018
The video showed a group of al-Qaeda leaders who are listed on the international terrorism list, including Mohamed Shawki al-Islambouli, the brother of the assassin of the late Egyptian president Anwar Sadat, along with Kuwaiti Suleiman Abu al-Ghaith, son-in-law of Osama bin Laden and the former al-Qaeda spokesman, along with Saif al-Adl, who was most probably responsible for documenting the wedding with his cameras.
Al-Ghaith is the husband of Fatimah bin Laden, who seemed to show no interest in appearing in the wedding video but was shown at one point telling one his stories with Osama bin Laden and Ayman al-Zawahiri during their presence in Kandahar.
Hamza, , who jihadis have hailed as the 'heir' to the leadership of al-Qaeda, also had a number of his brothers beside him, including Saad bin Laden, who was killed by a drone strike in Waziristan after he left Iran. He tells his brother Hamza in the video: "Hamza, the ninth brother to get married".
The video has also shown the wedding being held in two places, the first being inside a mosque and then the continuing at their residence in the compound which was chosen by the Iranian Revolutionary Guards.
Previously this month, Hamza Bin Laden revealed his 12-year-old son has reportedly been killed in an air strike on the Afghanistan-Pakistan border last year. The young boy, also named Osama, was praised for his "martyrdom".
According to the Hindustan Times, a leaked letter from Osama's father titled "Letter from Sheikh Mujahid Hamza Bin Laden" was published by al-Qaeda's propaganda outlet, Global Islamic Media Front. The letter reportedly contains a picture of the dead boy and read: "We console ourselves and you on the martyrdom on the hero cub … the grandson of braver … our son Osama, may Allah have mercy on him." It also referred to him acting out scenes of martyrdom with other children.
Further details of his death – including the location of the apparent airstrike – were revealed by the Pan-Arab news website Arabi 21, which cited jihadi sources. But there have been conflicting reports, with some saying he died of illness.
The cause of his death is not given, but there is no mention of an operation, clashes or a drone strike. The U.S. military is conducting targeted air operations against Al-Qaeda operatives. Saudi-owned outlet Al-Arabiya cited sources as saying the child was 12 years old, and speculated that he had died of an illness.
Referring to his own father, formerly the world's most-wanted terrorist for his role in the plane hijackings that killed almost 3,000 people in New York City, Hamza said that his son was "sad to a point we did not expect," finding him in the corner of their residence crying.
In November, Osama bin Laden's 'favourite' son called on Muslims around the world to launch terror attacks on the U.S. for killing his father. In an audio message, Hamza bin Laden, believed to be around 28, urged Muslims to 'to take revenge on the Americans, the murderers of the Shaykh [Osama bin Laden], specifically on those who participated in this heinous crime.'