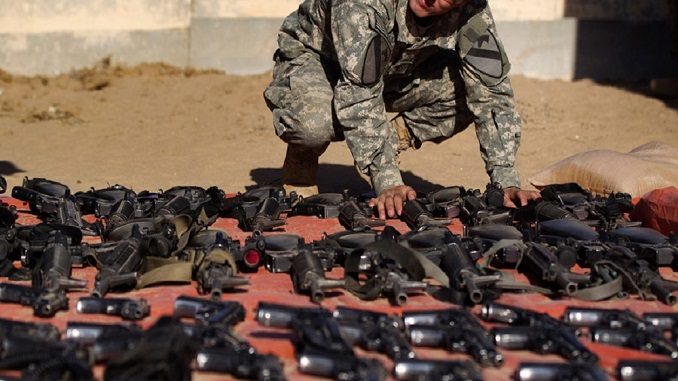 Iran's intelligence agency has confiscated large amounts of weapons and ammunition, among which bombs and grenades, an official news agency confirmed. Officials have put the blame for bringing the weapons into the country on Saudi Arabia, The Washington Post reports.
The report released on Wednesday by the IRNA news agency says the bombs were seized in the eastern part of Iran, blaming the Saudi intelligence service for bringing them into the country.
The second operation against a "separatists group" in Marivan, near the Iraqi border, resulted in authorities seizing grenades and rockets. In both areas, occasional clashes take place between Iranian forces and IS-linked fighters and militant Kurdish separatists.
Saudi Arabia has, on several occasions, accused Iran of sending weapons to Yemen's Shiite Houthi rebels to fight the Saudi-backed coalition there.
In December, a short-range ballistic missile was fired at Saudi Arabia by Houthi rebels in Yemen, which was suspected to have been supplied by Iran. A United Nations report condemned hostile Iranian meddling in the region and its support of the Houthi terrorist militias in Yemen.
Saudi Arabia welcomed the report, saying "the Kingdom of Saudi Arabia welcomes the U.N. report that asserted that the hostile Iranian intervention and its support for the terrorist Houthi militia with advanced and dangerous missile capabilities threatens the security and stability of the kingdom and the region."
Saudi Arabia and Iran have also taken opposing stands in an ongoing battle for power and dominance in Yemen that followed the "Yemeni Revolution" in 2011 which prompted regime change. Sunni-dominated Saudi Arabia and the Western world back Yemeni President Abdrabbuh Mansour Hadi, who became head of state after an uprising against former President Ali Abdullah Saleh in 2011.
Meanwhile, the Houthi movement wanted Saleh back in power and, allegedly with Iranian support (which Tehran denies), took control of Yemeni capital Sana'a and government ministries, pushing the Hadi government into exile.