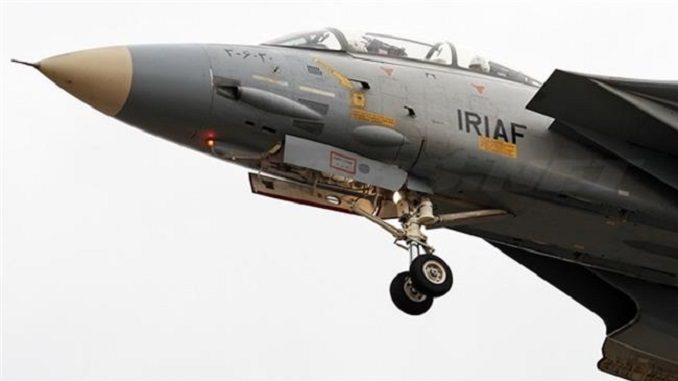 The Islamic Republic of Iran Air Force is to stage maneuvers recruiting the service of all the bases under its command throughout the country, Press TV reports. The two-day drills, codenamed Fada'ian-e Harim-e Velayat 7 (Death-defying Defenders of Velayat's Sanctuary) 7, are to begin on Tuesday.
Brigadier General Massoud Rouzkhosh, the spokesman for the drills, said on Monday that the Air Force's Shahid Babayi Airbase in Iran's central Isfahan Province would be playing the pivotal role among the bases.
According to Rouzkhosh, the main and operational phase of the Fada'eeyan-e Harim-e Velayat 7 drills will last for two years, including dozens of various kinds of fighter-bombers, heavy and semi-heavy transport aircraft, tankers, interceptors, reconnaissance, aerial patrols, and drones.
Dozens of the Air Forces' strategic Sukho-24, F-4, F-5, F-7, F-14, MiG-29, and Sa'egheh (Lightning bolt) fighter-bombers would be participating in the maneuvers, alongside interceptor and refueling aircraft, and manned and unmanned reconnaissance planes, Boeing 707 and 747 cargo planes, and logistical aircraft.
The Air Force is to drill air-to-surface and surface-to-air firing, and test-fire highly-destructive air-to-air munitions, as well as to practice aerial fire control and surveillance. The missiles to be used are of the laser-guided, television-guided, radar-guided, and thermal types. The exercises, Rouzkhosh said, carry the message of security, stability, friendship, and lasting peace for the countries of the region.
Separately, Iranian Defense Minister Brigadier General Amir Hatami unveiled a new radar system named Afaq (Horizons), which has been developed by the electronics industries associated with the Defense Ministry.
"Today, we are participating in the unveiling ceremony of a sophisticated radar system that has manufactured by Iranian experts," Hatami said during the unveiling ceremony which was held on Monday.
The radar, he said, would be used for coastline surveillance, adding that it could monitor a 200-kilometer-long stretch and reconnoiter airborne targets as well. The system has remarkable electronic warfare technological capabilities and could monitor and track as many as 100 mobile targets simultaneously, the Iranian defense chief said.
Iran has in recent years made great headways in manufacturing a broad range of military equipment, including air defense systems that use cutting-edge technologies. It says its military doctrine is one of deterrence and would only be used in combat if the country is attacked.
The Iranian Armed Forces in January put into operation the home-made 'Nazir' radar system with the capability of detecting radar-evading targets and fighting against electronic warfare.
"Nazir radar system was put into operation and from now on, no radar-evading flying object can enter the Islamic Iran's skies without permission. The radar is special to detecting the small flying objects and MQ1, RQ4 and U2 aircrafts and can easily detect and trace ballistic and cruise missiles and most importantly, the radar-evading aircraft," Commander of Khatam al-Anbia Air Defense Base Brigadier General Farzad Esmayeeli said at the time.
Nazir is a long-range and high-precision radar system which is highly capable of detecting targets in low radar cross section and is resistant to radar-evading and anti-radar missiles.