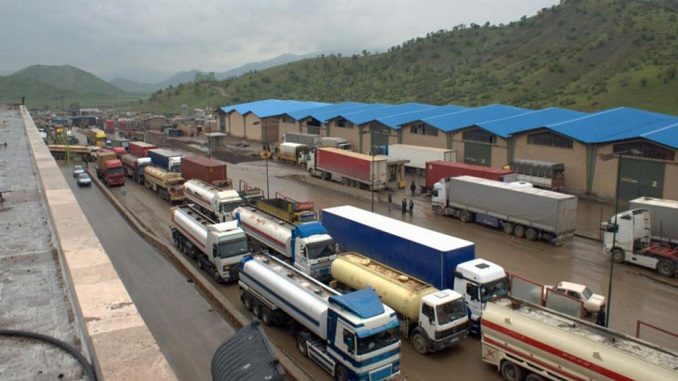 Iran will reopen all its border crossings with Iraq's Kurdistan region in the coming days, lifting restrictions imposed after last month's Kurdish vote in favor of independence, its chief of staff said on Monday.
The announcement comes a day after Iraqi Kurdish leader Masoud Barzani said he would give up his position as president on Nov. 1, after the independence referendum he championed backfired and triggered military action by the Baghdad. After the vote, Iraqi troops were ordered by the country's prime minister Haider al-Abadi to take control of areas claimed by both Baghdad and the Kurdish government.
Iran, which has its own Kurdish minority, also opposes independence for Iraqi Kurds, and at the request of Baghdad closed its borders with the Kurdish region in northern Iraq and halted all flights there and back.
"Border restrictions between Iran and Iraq's Kurdish region will be lifted in coming days," Iran's Chief of Staff Major General Mohammad Baqeri was quoted as saying by ISNA.
Baqeri also said if Kurdistan implemented its plan to break away from Iraq, "there would be bloodshed in Iraq and neighboring countries would be affected".
Tehran already re-opened the Bashmagh crossing last week after closing the terminal at Baghdad's request in response to the secession referendum in the area. The Bashmagh border crossing is located approximately 50 kilometers east of the city of Sulaimaniya in Iraqi Kurdistan and approximately 20 billion dollars of annual cross-border trade through it.
At that time, Jahangir Bakhshi, head of the Bureau of Customs in Marivan County of the northwestern Iranian Kurdistan province, said no decision had been made with regard to other crossings linking Iran with the semi-autonomous region, namely Haji Omran, Piran Shahr and Parviz Khan.
The decision came on the same day as the Kurdish Regional Government offered to put their independence drive on hold, stepping up efforts to resolve a crisis in relations with Baghdad via dialogue rather than military means.
"After the referendum and changes within the Kurdistan region, our borders with the Kurdistan region of Iraq were closed… today the Bashmagh border is open," Jahangir Bakhshi, the head of customs for the border crossing, said, according to the Islamic Republic of Iran Broadcasting news agency.
Previously, the Kurdish media network Rudaw reported that border crossings between Sulaimani province and Iran will reopen on Wednesday, a week and a half after they were shut by Iran.
"The border crossings will be open for both travel and trade, Sirwan Mohammed, head Sulaimani's Chamber of Commerce," told Rudaw.
Abadi wants to take control of the border crossings between the Kurdish region and Turkey, Iran and Syria, including one through which an oil export pipeline crosses into Turkey.