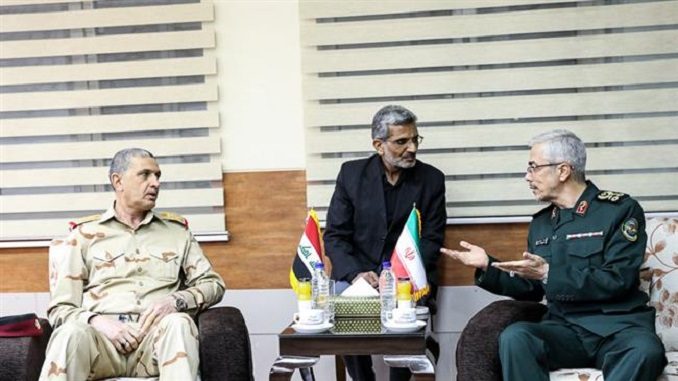 A top ranking delegation from Iraq's armed forces visited neighbouring Iran on Wednesday "to coordinate military efforts" amid a controversial referendum in Iraq's semi-autonomous Kurdish region, according to a statement from the Iraqi military, Turkish daily Yeni Safak reports.
Chief of Staff of the Iranian Armed Forces Major General Mohammad Baqeri discussed with his Iraqi counterpart Major General Othman al-Ghanmi,on the issue of terrorism, the Kurdish independence vote and matters of mutual interest. It is believed that the visit is part of retaliatory measures taken by the government in Baghdad following the non-binding independence referendum held in the Kurdistan Regional Government (KRG) on Monday. Baqeri hailed the latest achievements gained by the Iraqi army in the fight against terrorists.
"We are so pleased that the Iraqi nation and army have made great gains in the battle against terrorists and have crushed the Takfiris," he said.
Al-Ghanmi, for his part, reiterated that Iraq would continue its fight against terrorism until the ultimate defeat of the terrorists and also praised Iran's full support for Iraq, particularly in hard times. Separately on Wednesday, Baqeri met with senior military and political officials from Turkey, during which the two sides discussed a variety of issues, including the Kurdish referendum in Iraq.
Regional powers, including Iran and Turkey, have opposed the Kurdish referendum in Iraq, warning that the controversial vote could lead to further instability in the entire Middle East, a region already ravaged with numerous conflicts and terror threats. Iran's and Turkey's armies have started joint drills near their borders with the KRG in recent days.