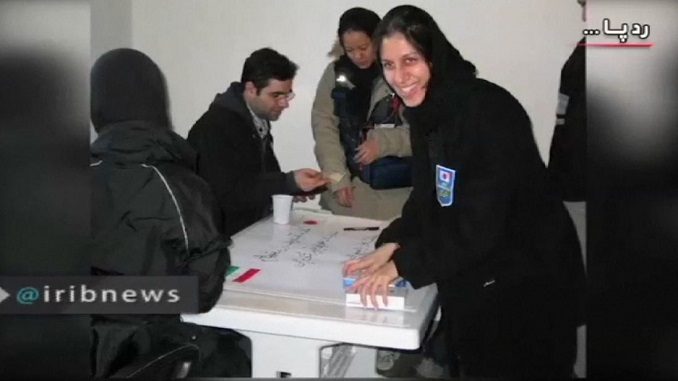 Iran has leveled further allegations at imprisoned British-Iranian charity worker Nazanin Zaghari-Ratcliffe, including what it claims is proof that she was training Iranian journalists- as the regime accuses her of trying to topple its brutal regime- that could add 16 years to her prison sentence, The Telegraph reports.
The allegations, complete with a close-up of an April 2010 pay stub from Zaghari-Ratcliffe's former employer, the BBC World Service Trust, appeared on Iranian state television last week, it emerged on Sunday. Along with the old pay stub, the report featured a June 2010 email where Zaghari-Ratcliffe referred to the "ZigZag Academy," a BBC World Service Trust project where she had a role allegedly training "young aspiring journalists from Iran and Afghanistan through a secure online platform."
"An innocent citizen or a British agent?" the Iranian news anchor asked as the footage was aired.
The husband of Nazanin Zaghari-Ratcliffe has hit out at Iran's "lies" after it aired more allegations against the London mother, accusing Iranian media of prejudicing his wife's case after airing allegations against her.
"It is torture to keep hearing these lies on TV. I get very agitated by all the press attention in Iran.I think it is spectacularly unlikely she will have a fair trial. Everything about my experience to date with the Iranian court system has been that it has had little regard for due process it has been illegal at every stage. It is illegal to be prejudicing a trial in Iran this way, but they are still doing it," he said.
He called the Iranian TV show "propaganda" and "lies," and added that the show had gone through his wife's Gmail account, using information and pictures which he says have been used to create an out-of-context and distorted picture. A picture of a group of Zaghari-Ratcliffe's fellow mothers in London was "packaged as though they're sort of a network of spies," he added.
Upon seeing the news while in jail, he said Zaghari-Ratcliffe collapsed, had a panic attack, and had to be injected with a vitamin B complex and a sedative to calm her down. Zaghari-Ratcliffe's mental state has suffered since a blunder by Boris Johnson about her activities in Iran exposed her to the threat of her five-year jail sentence being doubled.
Iranian state television aired videos Sunday focusing on Zaghari-Ratcliffe and a detained American graduate student, moves seen by their spouses as an effort to pressure the U.S. and UK governments ahead of decisions of critical importance to Tehran as London considers making a $530 million payment to Tehran and weeks ahead of a deadline for the U.S. Congress to decide whether economic sanctions lifted under the 2015 Iran nuclear accord should be reimposed.
One broadcast focused on American Xiyue Wang, a Princeton University student arrested on August 8, 2016, while conducting research for his dissertation on Iran's Qajar dynasty. The Iranian authorities accused him of "spying under the cover of research," charges his family and the university have strongly denied. He received a 10-year prison sentence in July.
"He traveled to Iran solely to study Farsi and to examine historical documents from the late 19th and early 20th centuries. He described his research plans in advance to the Iranian authorities and the libraries and archives he planned to visit, and he only sought access to materials that he needed for his dissertation," the university said.
The program broadcast on November 26 alleged that Wang attempted to scan 4,500 pages of sensitive documents and pay thousands of dollars to access confidential areas of Tehran libraries.
Critics and family members of several detainees have suggested the hard-liners are using the prisoners as bargaining chips for money or influence, while a United Nations panel in September described "an emerging pattern involving the arbitrary deprivation of liberty of dual nationals" in Iran.
One Iranian-Canadian, at least one Iranian-American, and one Chinese-American are currently known to be imprisoned in Iran on espionage and crimes against the Iranian state. Also in an Iranian prison is Nizar Zakka, a U.S. permanent resident from Lebanon who advocates for internet freedom and has done work for the U.S. government. He was sentenced to 10 years last year on espionage-related charges. In addition, former FBI agent Robert Levinson, who vanished in Iran in 2007 while on an unauthorized CIA mission, remains missing.
The Iranian state-owned TV station accused of peddling lies about Nazanin Zaghari-Ratcliffe, the jailed British mother, is operating from a former car factory in west London. The UK office of Islamic Republic of Iran Broadcasting (IRIB) is headed by a British resident, while other former staff members have settled in the UK after moving from Tehran.
The UK's acceptance of these journalists contrasts with Iran's hostility towards BBC staff and its incarceration of Zaghari-Ratcliffe whom IRIB has accused of being a British spy. The station which has close ties with Iran's Revolutionary Guards has broadcast "distortions" and "elaborate lies" about the charity worker's case, the Sunday Times said.