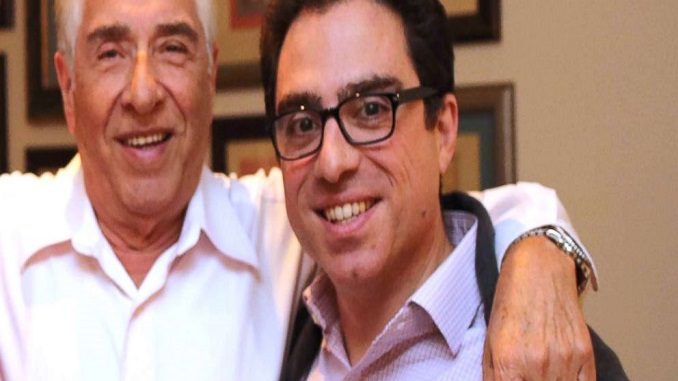 An ailing 81-year-old Iranian-American who Iranian authorities recently returned to prison against the advice of doctors was rushed the hospital with a racing heart rate Sunday, according to his attorney, ABC News reports.
Baquer Namazi, who has a pacemaker and has suffered life-threatening heart problems in Iran's notorious Evin prison for two years, was sent to the hospital late Sunday night when his heart rate doubled from its usual 60 beats per minute to 120 beats per minute. He also experienced fluctuations in blood pressure and a severe loss of energy, his attorney Jared Genser said in a statement.
Genser argued Iranian authorities will be "directly responsible if anything happens to Baquer Namazi." He has previously said returning Namazi to prison from medical leave would amount to a "death sentence."
"He must be immediately released on medical parole," Genser said.  "And Iran must act expeditiously to engage with the United States to find a resolution to all these wrongly imprisoned American cases, including Baquer's son Siamak Namazi, who also remains imprisoned."
Baquer Namazi has been held by Iran for nearly two years after he was trying to visit and secure the release of his son Siamak Namazi, who has been detained by Iran since fall 2015. They are two of the six Americans missing or detained in Iran – with a new case revealed this past weekend.
The elder Namazi, a retired UNICEF official, was rushed again to the hospital late Sunday night with an irregular heartbeat, severe depletion of energy and fluctuations of his blood pressure, according to his lawyer Jared Genser. This latest trip is Baquer Namazi's second to a hospital in the past two weeks and his fifth while in custody. He has a history of heart problems, including an emergency surgery to install a pacemaker while in custody last September.
Before he was returned to Evin Prison last Tuesday, his family, his lawyer, and the State Department urged Iran to release him on humanitarian grounds. His doctor said that the prison's conditions are the primary reason for his declining health – and the day after he was returned, he was unable to walk because of a severe drop in blood pressure and depletion of energy, Genser said.
Last week, Under Secretary of State for Public Affairs and Public Diplomacy Steve Goldstein, warned that if Baquer Namazi was returned to prison, he could die.
"We are concerned about that, and we would hope the Iranians would be concerned about that, too," he told reporters.
The State Department has no comment on this latest hospitalization. Iranian officials also didn't comment Monday on Baquer Namazi or his hospitalization but have consistently denied that the government arbitrarily arrests Americans.
His family once again fears he could die at any time and has pleaded with Iranian authorities to release him on humanitarian grounds.
"I don't know what needs to happen for the Iranian authorities to allow my father to stay out of prison and heed the advice of their own medical examiner panel. I beg the authorities to let him stay home on parole on humanitarian grounds," said Namazi's son, Babak Namazi.
Genser and the Namazi family also disclosed a separate incident on Monday, a previously unreported health scare that occurred Feb. 7 when they said Baquer Namazi suffered a severe drop in blood pressure and was so weak that he couldn't walk. He was taken by stretcher to Evin prison's infirmary where he was given IV fluids and medication, they said.
Evin prison authorities also are denying medical attention to Nizar Zakka, another imprisoned U.S. permanent resident, even though an Iranian doctor hired by his family has diagnosed him with colon cancer, his attorney told the Center for Human Rights in Iran, a New York-based nonprofit last week.
The attorney, Jason Poblete, said Zakka needs a colonoscopy to confirm the diagnosis, but the Iranian government won't allow it. In addition, Zakka, a Lebanese-born informational technology expert and internet freedom advocate, was taken to Evin's clinic for oxygen last week because he was coughing up blood and could be suffering from bronchitis.