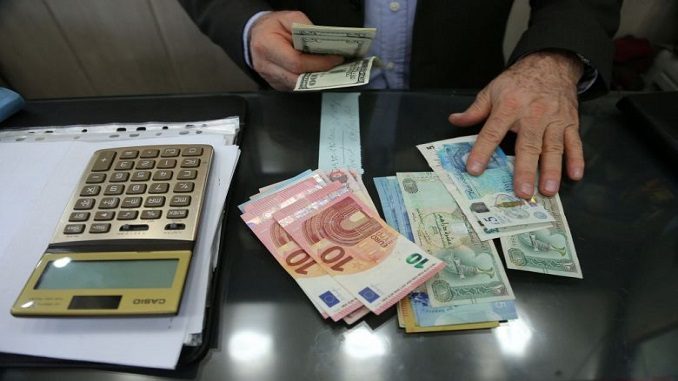 Iranian police arrested around 200 money changers on Wednesday as it scrambled to contain the decline of the rial, which has lost a quarter of its value in six months, Daily Mail reports. A video by state broadcaster IRINN showed dozens of currency hawkers, who normally ply their trade across the road from the British embassy in central Tehran, being rounded up by police.
Iran's currency has collapsed from 38,400 rials to the dollar in July to a record low of 48,400 on Wednesday. Tehran's chief of police, General Hossein Rahimi, told local media that 10 exchange offices had also been shut.
Iran's nuclear deal with world powers, which lifted many international sanctions, had raised hopes that the currency would regain its lost value. On the day it was announced, many celebrating Tehranis waved dollar bills alongside 10,000 rial notes — a sign of their hope that it would return to the level it had last enjoyed prior to the tightening of U.S.-led sanctions in 2012.
Instead, the currency has continued to plummet, particularly after the arrival in office of U.S. President Donald Trump, whose threats to tear up the nuclear deal have scared off many foreign investors and prevented international banks from re-engaging with Iran. But blame is also being placed closer to home.
"It's the government which is partly responsible for the rise in the dollar," a currency trader told AFP, asking not to be named.
He said the government itself was selling dollars at 48,800 rials on Tuesday — part of its struggle to repatriate dollars it earns from selling oil and gas abroad. The other big driver was the decision by the central bank to lower interest rates in September.
Apart the arrests, a well-informed official in a conversation with the reporter of the IAZA news agency said that more than 755 accounts of currency brokers with a turnover of 20 trillion Toman were blocked in the state clash with the destructive speculation in the foreign exchange market.
Iran's banks have offered sky-high rates in recent years — often over 20 percent — as they compete for deposits against many individuals and businesses who prefer to keep their money in dollars or real estate. With many banks looking shaky, Iran's central bank decreed they could no longer offer rates above 15 percent — a move which traders say pushed many back towards the dollar.
Previously in mid-January, police in Tehran have shut down several currency exchange shops and arrested a number of money changers suspected of being behind a recent turmoil in exchange rates. They intervened after the plunge of the Iranian rial which has dropped to around 45,000 against the U.S. dollar from 37,700 in mid-2017, Tasnim news agency reported on Wednesday.
It said Tehran prosecutor's office had announced the arrest of several suspects while police had moved in to identify those behind the volatility in the exchange market.
"We are investigating those who impact the foreign exchange market and those who support them behind the scenes and today it has become clear who these individuals are," the news agency quoted chief of the Iranian Police Criminal Investigation Department as saying.
A series of factors have contributed to the plunge to spin out of control where the CBI had been orchestrating a gradual depreciation of the rial since last year in order to ride out the inflation. Ever since 2012 when the rial lost about two-thirds of its value against the dollar under former president Mahmoud Ahmadinejad, money exchange stores have mushroomed across major Iranian cities amid rising demand for foreign currencies.
According to the International Monetary Fund, Iran's foreign reserves are estimated at over $130 billion which are enough to check an uncontrolled slide of the rial.