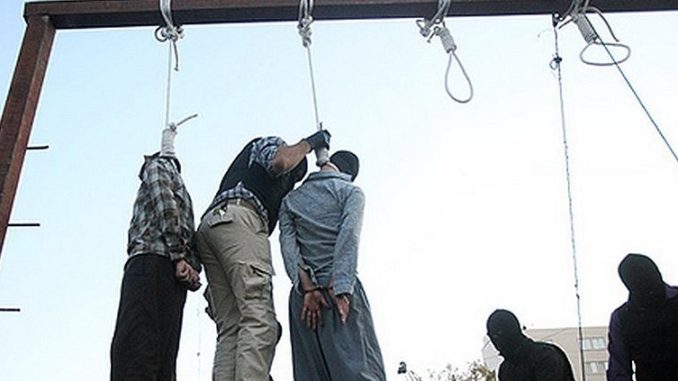 At least one prisoner was executed in the Central Ardebil Prison, on Monday, September 18, 2017. The identity of the prisoner, who was convicted of having an illegitimate relationship, was 24-year-old, Shahin Parsajoo. During the execution, prison authorities forced around fifty prisoners to attend and watch.
Trying to prevent the public protests by intensifying the atmosphere of terror and intimidation in the society on the eve of the Islamic holy month of Muharram, Iranian regime has increased the public executions in various streets and prisons of the country.
Five prisoners, including a 27-year-old youth in Islamabad, another prisoner in Anbarabad city in Kerman province, a prisoner in Modarres Blvd in Ilam, a prisoner at the the Salmas municipality square, as well as another prisoner in Pars Abad, Moghan, in Ardebil province, were hanged in front of the public eyes between September 12 and 20.
Meanwhile, six prisoners were hanged in the prisons of Ardebil, Boroujerd, Khorramabad, Mashad and Zanjan on September 18. A female prisoner was among the executed. On September 19, a 23-year-old man was executed while he was sentenced to three years in prison for robbery, but was sentenced to death in a new pumped up charge.