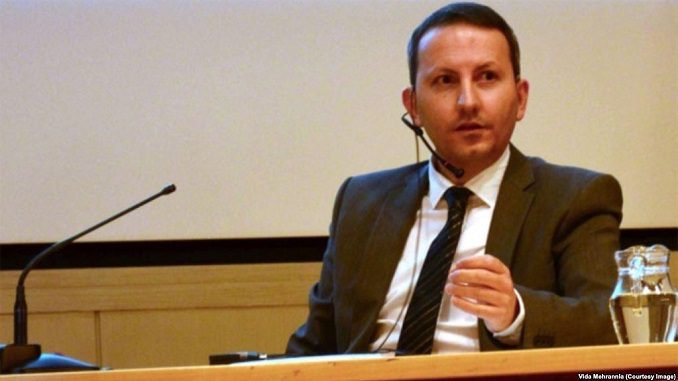 The Public Prosecutor of the Islamic Republic of Iran, Abbas Jafari Dolatabadi, announced on Monday the sentencing to death of Ahmad Jalali, a university professor after he confessed to eight meetings with foreign Intelligence agents, Middle East Monitor reports. He has also been accused of aiding Israeli secret agents in murdering two Iranian nuclear scientists.
In a statement to the official IRNA news agency, Dolatabadi said he had met Jalali who confessed to meeting foreign Intelligence agents and briefed them on projects of the Defence Ministry and the Atomic Energy Agency, as well as providing officers from the Israeli Intelligence service (MOSSAD) with sensitive information in return for large sums of money.
Djalali confessed to having provided foreign security services with secret documents about Iran's nuclear and defense programme as well as information about Iranian nuclear scientists, Dolatabadi said in a statement. These documents were provided in exchange for money and Swedish nationality, the ISNA news agency quoted Dolatabadi as saying. The attorney general did not state when Djalali's execution would take place.
Last week, Iranian television broadcasted the confessions of Ahmad Jalali after he was convicted of spying for Israel's Mossad. In a recorded video, Dr. Ahmadreza Jalali confirmed that he collaborated with a foreign intelligence agency when he was teaching in Europe.
Dolatabadi said Djalali had confessed to meeting Mossad agents repeatedly to deliver information on Iran's nuclear and defense plans and personnel, and helping to infect Defense Ministry computer systems with viruses, Mizan reported. In a broadcast on state-controlled television on December 17, Djalali admitted to supplying information to a foreign intelligence service about Iranian nuclear scientists who were later assassinated.
But in an audio recording, Djalali later said he made the confession under psychological pressure. He had previously denied the charges. International rights groups have condemned Djalali's arrest, saying it follows a pattern of Iran detaining dual nationals and expatriates without due process.
Ahmadreza Djalali, a medical doctor, and lecturer at the Karolinska Institute, a Stockholm medical university, was accused of providing information to Israel to help it assassinate several senior nuclear scientists.  Djalali was arrested in Iran in April 2016 and later convicted of espionage. He has denied the charges, Amnesty said.
Djalali was on a business trip to Iran when he was arrested and sent to Evin prison. He was held in solitary confinement for three months of his detention and tortured, Amnesty said.  It said Djalali wrote a letter inside a prison in August stating he was being held for refusing to spy for Iran.
Sweden condemned the sentence in October and said it had raised the matter with Iranian envoys. Seventy-five Nobel prize laureates petitioned Iranian authorities last month to release Djalali so he could "continue his scholarly work for the benefit of mankind".
At least four scientists were killed between 2010 and 2012 in what Tehran said were assassinations meant to sabotage its efforts to develop nuclear energy. Western powers and Israel said Iran aimed to build a nuclear bomb. Tehran denied this.
The Islamic Republic hanged a man in 2012 over the killings, saying he was an agent for Israeli intelligence agency Mossad.