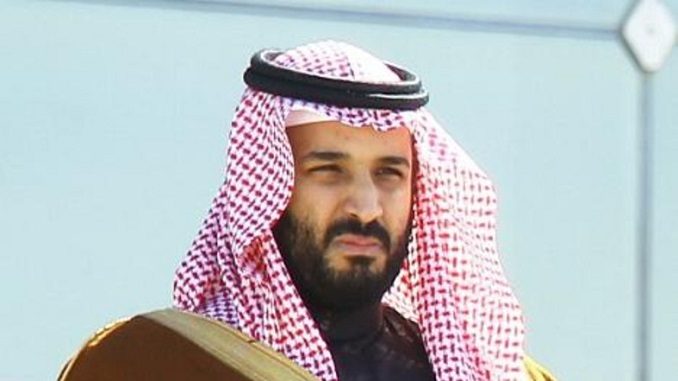 Saudi Crown Prince Mohammed bin Salman accused Iran on Tuesday of "direct military aggression" against the kingdom by supplying Yemen's Huthi rebels with ballistic missiles, state media reported.
"The involvement of Iran in supplying missiles to the Huthis is a direct military aggression by the Iranian regime. This "could be considered as an act of war," the Saudi Press Agency quoted the crown prince as saying during a telephone conversation with British Foreign Secretary Boris Johnson.
Saudi forces on Saturday intercepted and destroyed a ballistic missile near Riyadh international airport, reportedly fired from Yemen by the Huthi rebels. It was the first reported Huthi missile launch to reach Riyadh and threaten air traffic, underscoring the growing threat posed by the conflict on Saudi Arabia's southern border.
In the meantime, the Saudi Foreign Minister Adel Al-Jubeir on Monday warned Tehran the Kingdom would not tolerate "any infringement" on its national security, following a weekend missile attack on Riyadh by Iran-backed rebels in Yemen.
"Iranian interventions in the region are detrimental to the security of neighboring countries and affect international peace and security. We will not allow any infringement on our national security," Jubeir tweeted.
Jubeir said his country reserved the right to respond to Iran's "hostile actions".
"We see this as an act of war. Iran cannot lob missiles at Saudi cities and towns and expect us not to take steps," the Saudi foreign minister, Adel Jubair, said in an interview on CNN.
On Monday, the Saudi-led military coalition in Yemen said it reserved the "right to respond" to the missile attack on Riyadh, calling it a "blatant military aggression by the Iranian regime which may amount to an act of war".
Riyadh accused Tehran of supplying ballistic missiles to the Huthi rebels. Iran denied the allegation. The regional rivals traded accusations on Monday with Saudi Arabia saying the missile attack might amount to an act of war and Tehran accusing Riyadh of war crimes in Yemen.
The ballistic missile strike by Houthi-Saleh forces in Yemen on Riyadh's main international airport on November 4, 2017, is most likely a war crime, Human Rights Watch said today.
"The Houthis' launching of an indiscriminate ballistic missile at a predominantly civilian airport is an apparent war crime. But this unlawful attack is no justification for Saudi Arabia to exacerbate Yemen's humanitarian catastrophe by further restricting aid and access to the country," said Sarah Leah Whitson, Middle East director at Human Rights Watch.
Saudi Arabia has led a military intervention in Yemen since 2015 in support of its internationally recognized government during which more than 8,650 people have been killed. Tensions have been rising between Sunni-ruled Saudi Arabia and predominantly Shi'ite Iran, which back opposing sides in wars and power struggles from Yemen to Syria. The accusations raise the threat of a direct military clash between the two regional heavyweights at a time when they are already fighting proxy wars in Yemen and Syria, as well as battles for political power in Iraq and Lebanon. By the end of the day Monday, a Saudi minister was accusing Lebanon of declaring war against Saudi Arabia as well.
Even before the launching of the missile on Saturday, which was intercepted en route to Riyadh, the Saudi capital, the crown prince had staged another surprise demonstration of the kingdom's newly aggressive posture toward Iran and Lebanon.
The prince hosted a visit from Saudi Arabia's chief Lebanese client, Prime Minister Saad Hariri, who stunned the region by announcing his resignation, via video from Riyadh, in protest against Iran's undue influence in Lebanese politics.