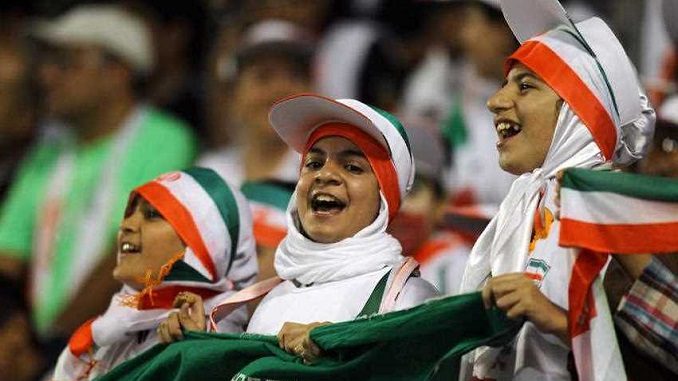 Iranian authorities on Thursday detained 35 women for trying to get into a major football game in Tehran that was attended by the president of the international football association, FIFA, the BBC reported. The women were not named and their situation was not clear.
The Twitter page of OpenStadiums, an Iranian women's movement dedicated to allowing women to watch sports in stadiums, said families had gathered around the Vozara Detention Center in Tehran and had been told "the girls" would be released at around 8 pm.
According to the semi-official ISNA news agency, Iranian interior ministry spokesman Seyyed Salman Samani said the female football fans were not arrested – but transferred to a "proper place" by police. Iran has barred women from attending football games since the Iranian Revolution in 1979.
Iranian state media quoted interior ministry spokesman Sayyed Salman Samani as saying the 35 women detained at the stadium were not arrested but rather taken to a "proper place." They were released at the end of the game.
The 100,000 capacity Azadi stadium in the Iranian capital was hosting the biggest annual fixture on the local football calendar — the derby between the two main Tehran teams, Esteghlal and Persepolis, which Esteghlal won. FIFA's chief, Gianni Infantino and technical director Marco Van Basten, on a two day visit to Iran to help mark the centenary of Iran's football federation, attended the match with Iranian Sports Minister Masoud Soltanifar.
Usually Derby day is best day of the year for football fans but today with several of them in jail it's the worst. They prepared extra security forces for #FIFA president presence in Azadi. A live TV interview with Infantino and Soltanifar after the game was abruptly taken off the air after a journalist asked when the ban on women might be lifted.
OpenStadiums on Thursday posted an open letter to Infantino, saying that gender discrimination at the gates of a stadium was a "clear violation" of the statues of both the Asian Football Confederation, to which Iran belongs, and of FIFA.
"As you are no doubt aware…women were prevented from attending this match for no reason other than their gender. It is time that the AFC and FIFA take a stand against those who actively and openly discriminate against female football fans in violation of statues, regulations, and human rights," the letter said.
The letter concluded, "On behalf of all Iranian women that love football and merely want to attend matches to support their teams of choice, we urge you to take the necessary disciplinary action against the FFIRI [Iran's football federation] or others as required to protect our rights."
Article 4 of FIFA's statutes reads: "Discrimination of any kind against a country, private person or group of people on account of race, skin color, ethnic, national or social origin, gender, disability, language, religion, political opinion or any other opinion, wealth, birth or any other status, sexual orientation or any other reason is strictly prohibited and punishable by suspension or expulsion."
Infantino and Van Basten were in Iran to celebrate the 100th anniversary of Iran's football federation. Infantino also met with Iranian President Hassan Rouhani and sports minister Massoud Soltanifar. Appearing at a joint news conference with Soltanifar earlier Thursday, Infantino spoke about keeping football free of politics.
British news site Sky Sports News reported that Infantino also told the media that he wants to do something for Iranian women, especially because he has four daughters. Van Basten previously has called for the ban on Iranian women at football stadiums to be lifted, and former FIFA president Sepp Blatter called the ban "intolerable" in 2015, urging Iran to open up its football stadiums to women.
Geneva-based activist Hillel Neuer tweeted at FIFA, asking why it was "silent" on the matter.
"@FIFAcom Your chief Gianni Infantino was at Tehran match today where #Iran detained 35 women for trying to attend. Your own Art. 4: "Discrimination on account of gender is strictly prohibited and punishable by suspension or expulsion." Why are you silent?"
In an interview with VOA Persian on Thursday, Brussels-based Iranian activist Darya Safai said Iranian women have been trying to get into football stadiums for years, sometimes disguising themselves with facial hair to look like men. Safai is the founder of "Let Iranian women enter their stadiums," a campaign to end gender discrimination at Iranian sporting venues. Safai said the women detained at Azadi Stadium on Thursday were trying to watch the match with their male family members, a right that women had before the Iranian Revolution.
"I hope that Iranian men, as they have done before, will stand together with women to help them to get their rights back," she said.
Ayatollah Naser Makarem Shirazi, a prominent Iranian religious leader, has been one of the strongest supporters of banning women from sporting venues. News site IranWire quoted him last December as telling students during a lecture that the presence of women in stadiums "inevitably" leads to morally corrupt acts.
In phone calls from Iran to VOA Persian's Straight Talk show on Thursday, one man said that if women went to football stadiums, they would find their dignity violated by men shouting foul language and acting aggressively. But other male callers supported efforts to end the football stadium ban, suggesting that men should insist on entering matches with their wives or daughters, or stop buying tickets altogether in protest. One female caller said she sees irony in Azadi Stadium's name, whose English translation is "freedom."
"Isn't it interesting that half of the people in the country are not allowed to go to a venue called 'Azadi,'" she said.
Later on, Infantino met with Iranian President Hassan Rouhani. Rouhani asked Infantino to ensure that "people are not deprived of watching competitions in their own stadiums," the BBC reported.
He was not, however, referring to the admission of women but to a Saudi ban on the kingdom's teams playing in Iran, enacted in 2016 when the Gulf kingdom broke off relations with Tehran. This has forced Iranian footballers to play their home games against Saudi teams in Oman. A ban on Saudi women attending football games was lifted in January. The campaign by Iranian women to attend football games comes as protests against wearing the hijab gather steam.