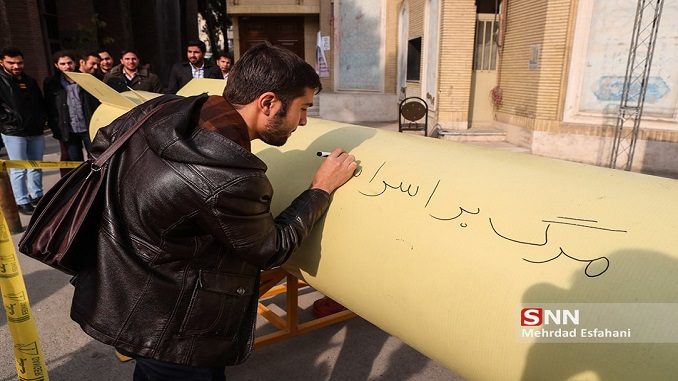 Iran officially introduced a new ballistic missile the Islamic Republic says is not detectable by radar. Iran's Islamic Revolution Guards Corps (IRGC) appears to have provided an explanation for the substantial improvement in the range of its Fateh-110 family of tactical ballistic missiles when it displayed the latest variant, the Zolfaghar, at Tehran's Amirkabir University of Technology, SNN reports.
Close-up photographs of the displayed missile that were published by the Fars news agency on 16 December showed that much of its body had a ribbed texture, indicating it was made using filament-wound fiber to make it lighter than models constructed from metal.
When the Zolfaghar was unveiled in September 2016 it was claimed to have a range of 700 km and to be accurate within 50 to 70 meters of its intended strike location, a significant improvement on the 500 km range attributed to the Fateh-313 that was unveiled two years earlier. The third-generation Fateh-110 unveiled in August 2015 supposedly has a range of 500 km.
Tasnim, another Iranian news source, said in June that the Iranian Revolutionary Guard Corps had fired a volley of Zolfaghar missiles at Daesh positions in Deir ez-Zor, Syria. Iranian media showed videos of the missiles launching as well as aerial footage of the projectiles striking targets. The aerial view was reported to have been collected by IRGC drones operating out of Damascus.
According to the Center for Strategic and International Studies' Missile Defense Project, the Zolfaghar packs a highly explosive warhead as well as submunitions that separate from the missile prior to impact. Cluster munitions also make use of submunitions.
The Zolfaghar (sometimes spelled Zulfiqar) literally means "spine-cleaver", has been put on display at the Amikabir University of Technology since December 16. Students were photographed taking macabre selfies with the missile and writing "death to Israel" on the weapon.
According to Shi'ite tradition, the Zulfiqar was the legendary sword of Ali ibn Abi Talib given to him by Islam's prophet Mohammed, his cousin and son-in-law. Ali was also the fourth caliph of Islam and the first imam of Shi'ite Islam. According to tradition, the sword was given to Mohammed by the angel Gabriel.
Last week the U.S. presented for the first time pieces of what it said were Iranian weapons supplied to the Houthis, describing it as conclusive evidence that Tehran was violating UN resolutions.
Iran, Saudi Arabia's regional foe, has denied supplying such weaponry to the Houthis who have taken over the Yemeni capital Sanaa and other parts of the country during its civil war.