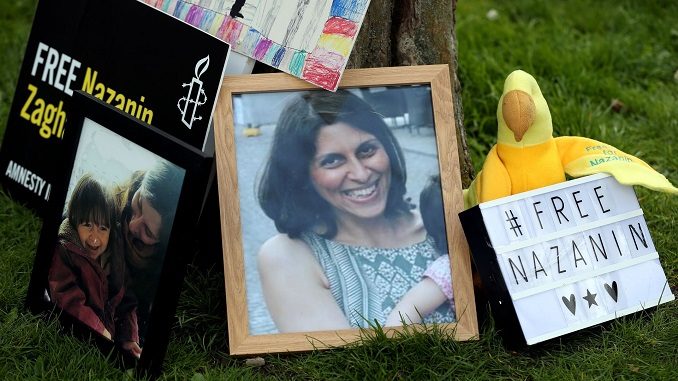 Iran's hardline judiciary suggested on Tuesday that Nazanin Zaghari-Ratcliffe, an Iranian-British charity worker imprisoned in the country, might be subject to early release, in the most positive signal so far on her case, Financial Times reports.
Zaghari-Ratcliffe, who was arrested in April 2016 at Tehran airport, was thrust into the media spotlight this month after the UK foreign secretary Boris Johnson said that she had been "teaching people journalism" in Iran.
That contradicted the position of Zaghari-Ratcliffe's family and her employer, a charity called the Thomson Reuters Foundation. They have said she was on holiday with her young daughter and, facing calls for his resignation, Johnson withdrew his remarks and apologized. Zaghari-Ratcliffe is serving a five-year prison sentence for spying, but could now be eligible for parole.
"The question now is whether this person is subject to [conditional] release or not," Gholam-Hossein Mohseni-Ejei, Iran's judiciary spokesman, told local media on Tuesday.
Iran's Islamic penal code allows parole for prisoners sentenced to less than 10 years who meet conditions including having served a third of their time and shown good behavior while in jail. Zaghari-Ratcliffe was arrested on April 3, 2016, which is considered the starting point of her jail sentence, BBC reports. A third of the sentence will be reached in December, raising the possibility that she could spend Christmas with her family.
"We do not take diplomatic issues into consideration [in deciding on early release]. We need to know whether this person meets the conditions and whether she can use the leniencies [foreseen in the law]," Ejei said according to Mizan, the judiciary's news agency.
Ejei made no reference to further punishment, which some media reports had suggested was likely following Johnson's comments. Zaghari-Ratcliffe's family has concerns about the possibility of another trial next month that could lead to an additional 16-year jail sentence. Iranian state television broadcasted a video last week in what seemed an attempt to escalate the case against Zaghari-Ratcliffe.
The report showed documents purporting to prove that she was actively involved in a "secret" project against the Islamic republic. It is not clear if the video represented an attempt by hardliners, including the elite Revolutionary Guards, which arrested Zaghari-Ratcliffe, to prevent her early release. The UK Foreign Office, which has called for Zaghari-Ratcliffe's release on humanitarian grounds, declined to comment on Tuesday.
In the meantime, Iran's state-funded TV and radio broadcaster, the Islamic Republic of Iran Broadcasting (IRIB), airs smear campaigns on imprisoned foreign nationals. IRIB has repeatedly colluded with Iran's judiciary and security forces, including the Islamic Revolutionary Guards Corps (IRGC), to convince the Iranian public that defendants held in politically motivated cases are guilty of committing crimes.
The state-run news service also broadcasts forced confessions by detainees, in clear violation of international provisions on fair trials and the right to due process.
On November 26, 2017, IRIB's "20:30" news program claimed that American citizen Xiyue Wang—who has been sentenced to 10 years imprisonment in Iran—had traveled to the country to obtain documents for the US government.
"Wang is a PhD student at Princeton who got his graduate degree from Harvard, two universities that operate under the umbrella of American security agencies and the Council on Foreign Relations," claimed IRIB.
On November 24, IRIB's online news agency published a story and video accusing Iranian-British dual national Nazanin Zaghari-Ratcliffe of having ties to the British intelligence service. Throughout the video, Zaghari-Ratcliffe is held guilty by association by IRIB, which tries to tie her work experience to BBC Persian, which is blocked in Iran and which the judiciary has tried to intimidate into silence. IRIB also claimed that Zaghari-Ratcliffe is a spy for allegedly attending a reputable university in the UK.
"SOAS University in the UK is one of the main outposts of the MI6 British Intelligence Service, which has an Iranian studies foundation where Mrs. Zaghari is a member," claimed IRIB.