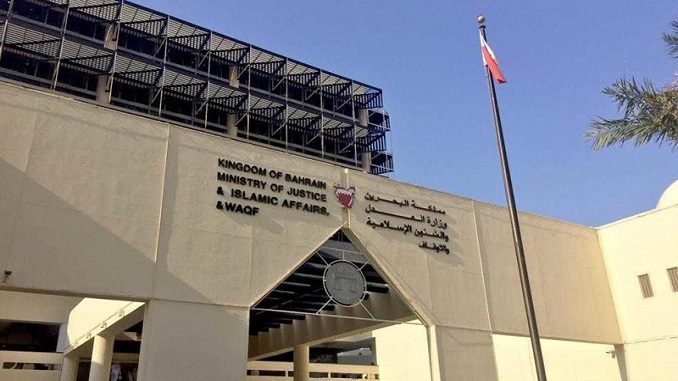 Persian Gulf nation of Bahrain's top court sentenced two people to death on Wednesday, and issued lengthy prison sentences against nearly all 60 defendants on terrorism charges in a case that highlights the rivalry between Sunni Gulf states and Shi'ite-ruled Iran, Iran Focus reports.
A statement citing a prosecutor and published on the state-run Bahrain News Agency said nineteen of the 60 defendants were sentenced to life in prison, 35 were sentenced to serve between 15 and five years in prison, and two were acquitted.
A total of 47 defendants were also stripped of their nationality, according to the Bahrain Institute for Rights and Democracy. It is believed that 24 of the defendants were tried in absentia.
The group members were found guilty of importing explosives, firearms, and ammunition, with the prosecutor explaining that in one instance machineguns and explosives were seized inside a speedboat off Bahrain's coast.
The group members would smuggle explosives and ammunition into Bahrain, after communicating with fugitives in Iran and Iraq, according to the prosecutor. The group was also linked to the murder of a policeman on his farm and an attack on the Jau Reformatory and Rehabilitation Center that led to a prison break, with several convicts escaping, and the murder of another policeman.
The group's leader, currently a fugitive in Germany, organized travel for the defendants to the Iranian Revolutionary Guard Corps (IRGC) terrorist camps for training.
Iran has denied the allegations that it armed protesters in Bahrain in 2011 through this group's weapons smuggling. However, given the Regime's many past smuggling attempts, the enmity between the Iranian Region and Sunni nations allied with Saudi Arabia, and that Bahrain is also home to the U.S. Navy's 5th Fleet, it seems unlikely that the Regime is not involved.
It would give the Regime the ability to destabilize the Middle East, harm its Sunni enemies, and harm the U.S., which it calls the Great Satan, at the same time.
Iran is often referred to as the world's leading state sponsor of terrorism, as can be seen through their support of the Hezbollah and the Houthis. This is doubly true when the terrorism will undermine or destabilize a Sunni foe or even a neutral country in the Middle East.
Iran seeks to control the Middle East, through the creation of a Shiite Crescent which it will use to transport more money, weapons, and troops to its terrorist proxies. Make no mistake, this terrorist plot has the Regime's fingerprints all over it.