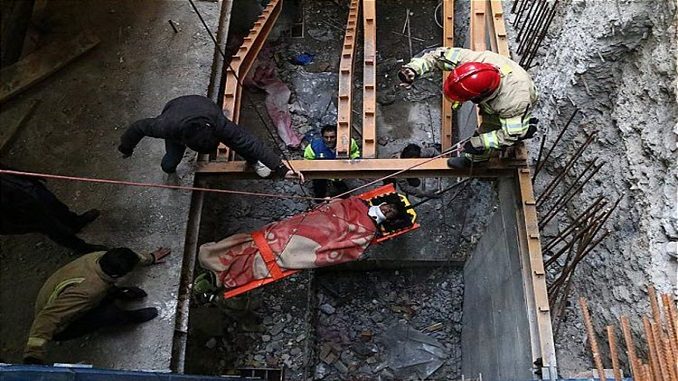 Iran now holds the dubious record for most deaths and injuries in the workplace thanks to lax workplace safety laws and inaction by the Iranian government. There's not a single day in Iran on which the news of workplace deaths or injuries is missing.
The state officials refuse to release the actual workplace casualty figures out of fear of inciting widespread protests, but the National Council of Resistance of Iran (NCRI) noted that even the level of officially reported accidents presents a shocking problem. Over a period of just three days this month, at least 11 workers died due to unsafe working conditions.  In comparison, a furnace explosion in May took 44 lives in one day and the government has still not produced a satisfying explanation for this.
One state official who recently spoke to the Revolutionary Guards-affiliated Fars news agency, said: "The death of each worker causes 7,500 man-hours to go to waste. The annual hidden costs of such incidents amount to 30 thousand billion tomans, and the increasing trend of such costs is quite worrying."
But even these manipulatively reduced workplace casualty figures reveal a shocking reality about the working conditions and exploitation of workers in Iran under the rule of mullahs. Meanwhile, the workers injured in workplace accidents are also among the victims who are seriously and irreparably hurt due to unsafe working conditions. With no longer being able to work, such workers, most of whom being daily wagers, will suffer lots of losses, which in many cases lead to a total devastation of workers' families as the state does not provide financial support to them and denies them access to things like accidental death and critical injury insurance.
The government was quick to brush off the preventable death of the workers and focus on how inconvenient this must be for businesses. In another instance, state-run ILNA news agency on September 19, 2017, quoted the head of Iran's Construction Workers Association said that there are 1,200 deaths, 1,500 spinal cord injuries, and over 15,000 injuries per year for construction workers.
Masoud Ghadipasha, the head of Tehran province's Legal Medicine Organization, said last month that more than half of fatal workplace accidents happen in the construction sector and that numbers increased by 34% in 2016, while the head of Mazandaran's Legal Medicine Organization said that workplace deaths had doubled in the past year. The Ministry of Labor said that there has been a 13% decrease in workplace accidents in the past year, but one has to wonder if the decrease is due to underreporting and meddling with statistics.
Also in this regard, state-run ISNA news agency has released a report titled "workplace deaths increased by 100 percent in Mazandaran province (northern Iran)", quoting head of Mazandaran Legal Medicine as saying "number of deaths related to workplace incidents has increased by 100 percent in this year's first four months compared to the same period last year, so that it has risen from 17 deaths in the first four months of last year to 34 this year."
State-run Mehr news agency wrote on June 26, 2017 that "in the first nine months of last year, a total of 13,063 workers were injured due to workplace incidents, with Tehran province being the most subjected."
But why are there so many accidents? Because the state doesn't care to amend or update its safety rules or even properly enforce the ones it has. Safety helmets, shoes, belts, gloves and other protective equipment are considered as the most basic safety necessities, but such equipment are either worn-out and unusable or non-existing. Shortage or lack of such safety essentials in factories and workshops is one of the main causes of workplace accidents.
Due to lack of heat sensors, despite their very low prices, more than 40 toiling workers lost their lives in security entities-owned Zemestan-Yurt coalmine. To describe the extreme anti-worker conditions in the coalmine, state-run ISNA news agency is forced to acknowledge that "the mine lacked any kind of gas detection sensors, ventilation systems, or safety measures. Besides the tunnel was one-sided and the work area was closed."
"The fact, however, is that the main reason behind Iranian workers' misery and death due to workplace accidents is existence of the thief, predator mullahs' regime that cares about nothing but remaining in power, plundering more and more of people's wealth, and continuously exploiting workers and other walks of life," the NCRI said in a statement.