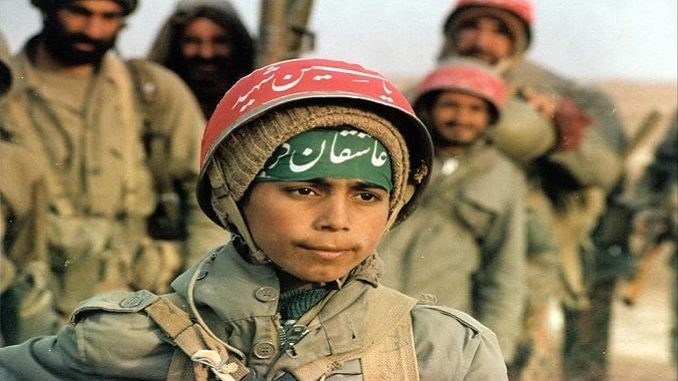 An Iranian television channel on Saturday broadcast a video in which a child solider speaks about being sent to Syria to fight. In the video, a reporter asks the young solider his age to which the boy replies "13," while another gunman next to the child says that he is "the youngest child fighter," Al Arabiya reports.
In the video, which has sparked debate in Iran, the child who comes from Mazandaran province in northern Iran, says he came to Syria under the influence of Qasem Soleimani, commander of the Iranian Quds Force, and that he was aware of the danger of death in the war in Abu Kamal.
"This child must be in school now and play and not on the war fronts, where adults get killed," said one Iranian activist.
A report by Human Rights Watch called for an investigation into the recruitment of children into Syria by the Iranian Revolutionary Guards, calling on the international community and the United Nations to open an investigation into the issue and to add Iran to the annual list of perpetrators of child abuse.
The report, issued in early October, said that the age of child recruits start from 14 years, and they are in an Afghan armed group exclusively of about 14,000 fighters supported by Tehran, and fighting alongside the forces of the Assad regime in the Syrian conflict.
HRW said a review photos of tombstones in Iranian cemeteries identified eight Afghan children who apparently fought and died in Syria. Iranian media reports corroborated some of these cases and reported at least six more instances of Afghan child soldiers who died in Syria, according to Human Rights Watch. The advocacy group said that due to misrepresentations of some ages on tombstones could indicate that "instances of Iran recruiting children to fight in Syria are likely more prevalent."
"Iran should immediately end the recruitment of child soldiers and bring back any Afghan children it has sent to fight in Syria. Rather than preying on vulnerable immigrant and refugee children, the Iranian authorities should protect all children and hold those responsible for recruiting Afghan children to account," Sarah Leah Whitson, Middle East director at Human Rights Watch, said in the statement.
During the Iran-Iraq war, it was reported that Khomeini's regime used hundreds of thousands of schoolchildren as cannon fodder. The young recruits are said to have received only one to three months of military training before they were being sent to the war front.
Reports alleged that nine-year-old children were being used in human wave attacks, while others were blown up as they charged across the minefields to clear the way for the IRGC. Many of the child soldiers captured by Iraqis during the Iran-Iraq war were in their early teens. The Iranian child soldiers wore plastic keys around their necks. The keys symbolized their "permission to enter paradise."
Estimates related to the Iran-Iraq War, say that around a million people were killed between 1980 and 1988, and that the paramilitary Basij Force recruited thousands of children to clear minefields. There are no reliable records about the actual number of children casualties in the war, but according to a report by the International Committee of the Red Cross at least 10 percent of Iranian prisoners of war were underage children.
Children are not the only target of Iranian military training that is used for the war in Syria. A top official in Afghanistan has come under fire for seeming to confirm for the first time that neighboring Iran has recruited thousands of Shi'ite Afghans and "warriors" from other regional countries to fight in Syria. Deputy Afghan Chief Executive Mohammad Mohaqiq made the controversial statement during a trip last week to Tehran.
"I thank all the warriors who cooperated in these wars from Iraq, Syria, Afghanistan, Pakistan and other parts of the world who attended the wars. In fact, it was the war of Islam against infidelity and against the conspiracies of the world arrogance," Mohaqiq said.
Rights groups have documented cases of Afghans, mostly Shi'ite Hazaras, in Iran who "volunteered" to take part in the Syrian conflict in the hopes of gaining legal status and a monthly income of around $600 for their impoverished refugee families. Iranian authorities reportedly tell Afghan recruits they are being trained to fight to protect major Shi'ite shrines in Damascus, Aleppo and Raqqa.
Iran is reported to have poured billions into Syria in addition to raising Shi'ite militias from countries with significant Shi'ite population, including Afghanistan and Pakistan, which also hosts millions of Afghan refugees.