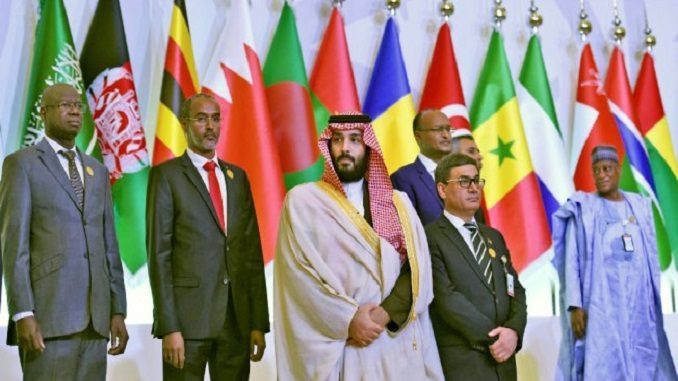 Top defense officials from 40 Muslim-majority nations met in Riyadh on Sunday. They are part of an alliance gathered together two years ago by Saudi Arabia's Crown Prince Mohammed bin Salman, who is also the Kingdom's defense minister. The Crown Prince has said he would encourage a more moderate and tolerant version of Islam in the ultra-conservative kingdom, France 24 reports.
The group of Muslim nations, called the Islamic Military Counter Terrorism Coalition, has yet to take any decisive action.  Officials say the group would allow members to request or offer assistance to each other to fight militants. This could include military help, financial aid, equipment or security expertise. The group, which will have a permanent base in Riyadh, would also help combat terrorist financing and ideology.
"The biggest threat from terrorism and extremism is not only killing innocent people and spreading hate, but tarnishing the reputation of our religion and distorting our belief," Prince Mohammed told officials from the Middle East, Africa and Asia.
Prince Mohamed told delegates that Friday's attack in Egypt "was a very painful occurrence and must make us contemplate in an international and powerful way the role of this terrorism and extremism". Gunmen carrying the flag of Islamic State attacked the mosque in North Sinai.
The IMCTC was announced in December 2015 by the Saudi Crown Prince to form a unified Pan-Islamic front against terrorism. In March 2016, Chiefs of staff from Islamic countries met in Riyadh and affirmed their determination to intensify efforts in fighting terrorism through joint work according to their capabilities, based on the desire of each member country to participate in operations or programs within the IMCTC framework as per its policies and procedures, and without compromising the sovereignty of the Coalition member countries.
Dr. Mohammad al-Issa, Secretary General of the Muslim World League, introduced the domain of Ideology, and the necessity of promoting a message that counters the narrative of violent extremist ideology and reaffirms the Islamic principles of tolerance and compassion, through presenting the true nature of Islam and supporting ideological, psychological, and social reforms.
"Terrorism is an ideological problem, not just a security issue. Contemporary extremism is becoming widespread because of the absence of informed confrontation," said Issa.
Iraq and Syria, at the forefront of the battle against Islamic State, are not members, nor is mainly Shi'ite Muslim Iran, the regional rival to mostly Sunni Saudi Arabia. A Saudi-formed Islamic counterterrorism alliance raises questions over whether it will work, what it will do and its ultimate goal. It appears to be aimed at Iran as much as at extremists.
"This alliance is a clear signal to the Arab-Islamic world that Saudi Arabia still wants to set the main agenda in regional policy and, of course, another instrument of containing Iran," said Sebastian Sons, an associate fellow at the German Council of Foreign Relations.
Qatar, originally part of the alliance, was not invited to Sunday's meeting after Riyadh led a group of states seeking to isolate Doha, saying it supported terrorism. Doha denies this. Abdulelah al-Saleh, a Saudi lieutenant general and the coalition's secretary general, said Qatar was excluded to help build a consensus for launching operations. He also said the group was not aimed at creating a Sunni bloc to counter Iran.
"The enemy is terrorism. It's not sects or religions or races, its terrorism," Saleh told reporters, adding that  military initiatives had been proposed to the group's ministerial council, but he did not elaborate.
Despite agreement on principles, members voiced different priorities at the meeting. Yemen's delegation said the focus should be Iran, Al-Qaeda and Islamic State, while Turkey called for "support from our friends" against Kurdish separatists.
Critics say the coalition could become a means for Saudi Arabia to implement an even more assertive foreign policy by winning the backing of poorer African and Asian nations with offers of financial and military aid. The Sunni nature of the alliance fuels the perception that it is directed against Iran during a time when Riyadh and Tehran are fighting for influence in the Middle East, including in Yemen, Syria and Lebanon.
"The definition of extremism in Saudi propaganda is that Iran is the terrorist. Thus, every anti-extremism measure is directed to roll back Iran's influence in the region and to demonize the Islamic Republic as the main sponsor of terrorism," Sons said.