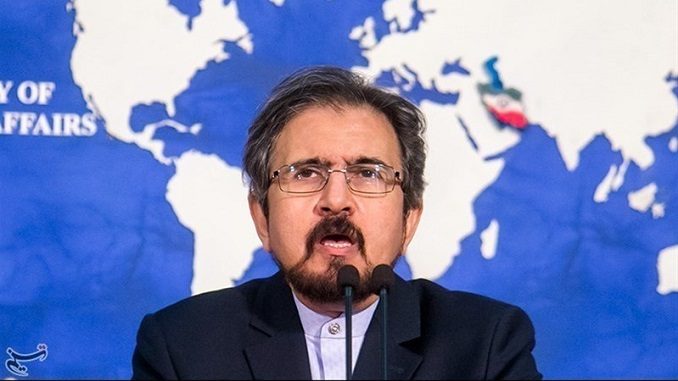 Iran has rejected Bahrain's allegation linking Tehran to an oil pipeline fire near the Bahraini capital of Manama, Tehran Times reports. On Friday night, an explosion at an oil pipeline, belonging to the state-run Bahrain Petroleum Company (Bapco), caused a fire in the village of Buri. The pipeline was running between Bahrain and Saudi Arabia. No one was injured in the blast and no group claimed responsibility, but Bahrain's Foreign Minister Khalid bin Ahmed Al Khalifah claimed in a post on Twitter that the incident was "a dangerous Iranian escalation."
Bahraini Interior Minister Sheikh Rashid bin Abdullah al-Khalifa also described the incident as "an act of sabotage and a dangerous act of terrorism aimed at harming the higher interests of the nation and the safety of the people."
"Terrorist acts witnessed by the country in the recent period are carried out through direct contacts and instructions from Iran," he claimed.
Foreign Ministry spokesman Bahram Ghasemi was quoted by Tasnim News Sunday lashing out at Bahrain for adopting "cheap and baseless stances" by accusing Iran of involvement in the recent oil pipe blast in the Persian Gulf country.
"It seems that the only thing Bahraini officials have learnt to say after every incident on that island is to accuse Iran," the spokesperson said, reminding the Manama regime that the era of such lies and childish blame games has ended. He also reiterated that Iran regards the stability and security of neighbors as its own security.
"Bahraini authorities should know that the era of making such absurd and false statements and the time of playing such childish blame-games has come to an end," Ghassemi said in a statement on November 12.
Top regional organizations including several Arab nations on Sunday strongly condemned and denounced the Iranian attack on an oil pipeline in Bahrain, while Manama called it a cowardly "terrorist act" by Tehran to destabilize the region. The attack at the oil pipeline in Bahrain, a key Western ally, has prompted Saudi Arabia to tighten security around its oil facilities and installations.
The Organization of Islamic Cooperation (OIC) and the Gulf Cooperation Council (GCC), besides Saudi Arabia, the UAE, Kuwait, Oman, Yemen, and Egypt denounced the pipeline explosion in Bahrain and expressed grave concerns over the role of Iran in escalating tension in the region. In another statement, Yousef Al-Othaimeen, OIC secretary-general, strongly condemned the terrorist attack and expressed full solidarity with Bahrain in combating all forms of terrorism.
"The attack was a serious terror crime, which endangers Bahrain's supreme interests and terrifies both citizens and residents," said Abdullatif Al-Zayani, GCC secretary-general, in a separate statement.