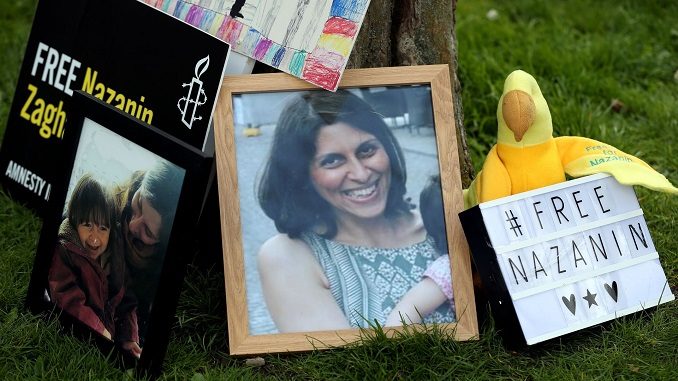 Major fears have emerged over the health of Nazanin Zaghari-Ratcliffe after it was revealed that she had found lumps in both her breasts, Daily Mail reports. According to her husband, Richard Ratcliffe, the British mother-of-one now has serious concerns she may have developed breast cancer since she was wrongfully interned by the Iranian regime. In a statement released on Sunday by Ratcliffe, his wife was taken to hospital on Saturday for ultrasound tests.
"New lumps had been identified in each of her breasts. Nazanin has been complaining of sharp stabbing pains in her breasts for some months – her breasts have been painful since month 5 of her detention. She had previously had been given an inconclusive mammography by the in-prison gynaecologist," he said.
The British citizen said she has had to wait for months for a second opinion from an outside specialist.
"The specialist consultant on Saturday said he felt them to be likely benign, except for the fact that she had been complaining of sharp pains for over a year. He also told Nazanin that given her family history of breast cancer, and the fact that many cancers are related to stress, and given the level of anxiety Nazanin has been exposed to over an extended period, her situation should be kept under close surveillance," the statement adds.
She is also understood to feel on the verge of a "nervous breakdown." Nazanin is also understood to have expressed her anger over Boris Johnson's blunder last week when he incorrectly claimed she was in Iran "training journalists."
The gaffe by the Foreign Secretary could lead to Nazanin's sentence being doubled to 10 years on charges she was "spreading propaganda." She is being held amid claims she was attempting to topple the regime.
Nazanin said her situation had become a "shambles" under the Foreign Secretary. And her circumstances threatened to deteriorate further after the Environment Secretary failed to follow the Government's official line that she was on holiday in Iran when she was imprisoned 18 months ago.
Johnson has held spoken to the husband of a British woman imprisoned in Iran amid growing pressure on the British government to push for her release. The Foreign Office said that Johnson and Richard Ratcliffe spoke by phone without elaborating further. A Foreign Office source told Reuters that the phone call was "very constructive."
Ratcliffe urged Boris Johnson to take him with him on a potential trip to the country and to visit his wife in prison to "send a very clear message" that she should be released.
Richard Ratcliffe said a joint visit with the Foreign Secretary would improve Nazanin's chances of being freed as he detailed the emotional strain her detention has placed on their relationship. Ratcliffe said it would be "much easier" for Johnson to see Zaghari-Ratcliffe if he accompanied him because of his status as a family member. He also said such a visit would improve his wife's chances of being freed.
"I think so, yeah, I think I am clear that actually the British Foreign Secretary standing up for her, going alongside her husband, would send a very clear message diplomatically," he said.
In the meantime, a group of "incredibly brave" women at a hell-hole prison in Iran are keeping up the spirits Nazanin who has been behind bars for over a year. Her husband said today a famous human rights activist and lawyer, Narges Mohammadi, and other political prisoners of the harsh Iranian regime were offering their support to his wife while she is locked up inside notorious Evin jail.
Nazanin has formed a strong bond with some 20 women who are incarcerated on the Women's Wing of the notorious jail, whose record of torture and beatings has been condemned by international campaigners. Other women to spend time in Elvin's political wing include Roxana Saberi, an Iranian-American journalist arrested in 2009 for reporting without press credentials.
Iranian-Canadian journalist Maziar Bahari was imprisoned for 118 days whilst covering the 2009 presidential election. Mahboudeh Abbasgholizadeh, an Iranian women's rights activist and campaigner against stoning punishments, spent a month in the jail.