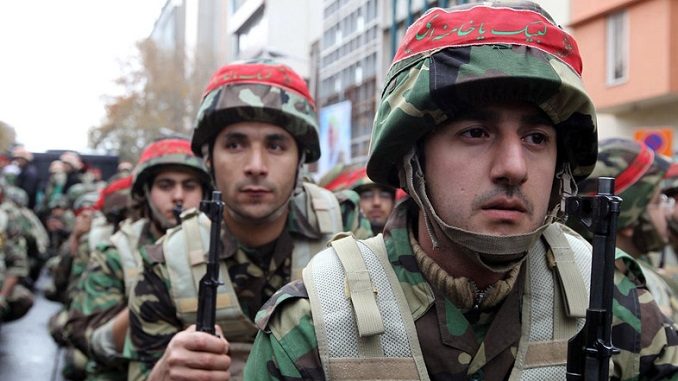 During a meeting with Pakistani Chief of Army Staff Qamar Javed Bajwa in Tehran on Tuesday, Commander of the Islamic Revolution Guards Corps (IRGC) Major General Mohammad Ali Jafari urged Pakistan to establish a Pakistani version of Iran's "Basij" forces, capable to back the Army of Pakistan. Jafari also voiced his country's readiness to offer its experience in training those new forces, Asharq al Awsat reports.
"Iran is ready to offer its experience of forty years of defense, popular resistance and dealing with hostile threats to neighboring Pakistan," he said.
The Iranian Chief of Staff defended the creation of armed popular forces in Pakistan similar to the "Basij" and said that those units were essential to "counter insecurity." None of nature's most vicious have an instinct for barbarism and cruelty like that of the Iranian Basij – Basij Mostazafan (mobilisation of the oppressed) – the foot soldiers of the Iranian regime. Acting out the role of morality police, they prowl the streets of Iran enforcing a code of conduct, mercilessly hunting down any women who disobey the rules on decency set down by the country's leading clerics, attacking those who do in the most horrendous way.
Jafari noted "Iran's success" in countering its enemies in each of Syria and Iraq by using those popular forces, as he accused the US of "seeking to destabilize Pakistan's security." It is worth noting that the "Zaynabiyoun Brigade" includes Pakistanis fighting in Syria for the past six years alongside Iran's elite Revolutionary Guard Corps (IRGC).
According to Tasnim news website, Bajwa discussed with Jafari the security on the border and means to enhance military relations.
The news agency of the Iranian Revolutionary Guards, Sepah News said that Bajwa also held talks with Head of Iran's Revolutionary guards ground forces Mohammad Pakpour. According to the news website, Pakpour warned the Pakistani Chief of Staff from a possible travel of ISIS fighters from Syria and Iraq to Pakistan. The warnings of the Iranian official also touched Iran's fears from the repetition of the "Kurdistan Iraq" scenario in Iran.
"This plan is a plot targeting countries like Iran and Pakistan. However, the government and the Iraqi popular forces were capable to foil the Zionist plan," Pakpour said.
In addition to his meeting with Jafari and Pakpour, the Pakistani Chief of Army Staff also met with Iran's Defense Minister Brigadier General Amir Hatami.