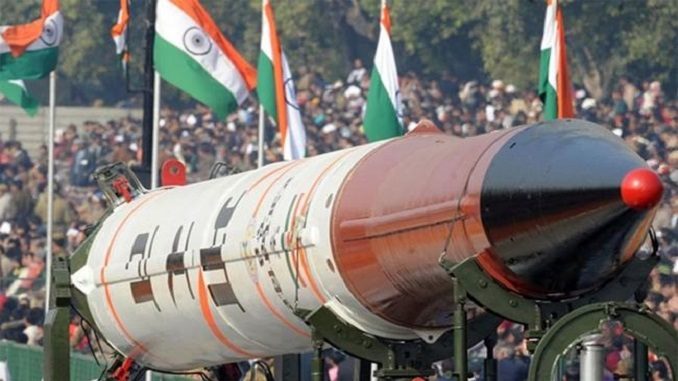 Iran's deputy foreign minister Abbas Araghchi sent a stern warning to the United States on Tuesday that a new nuclear arms race and new competition to modernize nuclear weapons are starting, calling that goal "a legal, political and moral responsibility, Alalam News reports.
Araghchi commented this during a high-level meeting of the UN General Assembly to promote International Day for the Total Elimination of Nuclear Weapons.
He said that despite the cessation of the nuclear arms race for some years, they recently heard alarming announcement by a nuclear-weapon state that it intends to continuously strengthen and expand its nuclear arsenal to ensure its place 'at the top of the pack" in a clear reference to U.S. President Donald Trump's comment in February that "a dream would be that no country would have nukes, but if countries are going to have nukes, we're going to be at the top of the pack."
For Araghchi, this was a clear indication of, and an explicit invitation to, the start of a new nuclear arms race. He also warned about the plans of "almost all nuclear weapon possessors for the modernization of their nuclear weapon arsenals" as well as the development of mini-nukes "by a certain nuclear-weapon state," which appeared aimed at the five nuclear powers – the U.S., Russia, China, Britain and France – but especially the United States.
As part of an in-depth review of U.S. nuclear weapons policy, the Pentagon is considering whether to develop more low-yield nuclear weapons, which critics say would increase the likelihood of nuclear weapons being used in combat.
Iran was one of 122 countries that voted in July in favor of a treaty to prohibit nuclear weapons, and Araghchi said his government will continue to support its overall objective, but he did not say whether the government intends to sign the treaty.
This isn't first time for an Iranian high official to give provocative and inflaming comments aimed at U.S. In May, the director general for political and international security affairs at Iran's Foreign Ministry, Gholam-Hossein Dehqani, has criticized the "provocative" nuclear stance adopted by the United States, saying the world is witnessing an arms race among nuclear powers.
"The existing nuclear weapons have already endangered international peace and security and the current world cannot deal with the beginning of a new round of arms race," Dehqani said as quoted by Iran Daily.