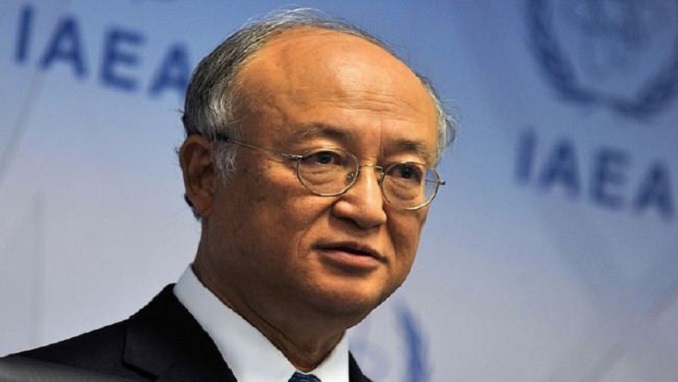 The International Atomic Energy Agency (IAEA) has defended the 2015 nuclear deal between Iran and the P5+1 group of countries, saying the Islamic Republic is under "the world's most robust" nuclear inspection regime, Payvand reports.
The IAEA Director General Yukiya Amano made the remarks at a panel discussion on global nuclear governance in the Bled Strategic Forum in Slovenia earlier this week amid Washington's pressure on the agency to request access to Iran's military sites.
Amano hailed the "important" role played by the UN nuclear agency in the finalization of the landmark accord, known as the Joint Comprehensive Plan of Action (JCPOA), saying that the JCPOA "represents a clear gain for nuclear verification."
The IAEA "is now verifying and monitoring Iran's implementation of its nuclear-related commitments under that agreement, acting as the eyes and ears of the international community," the UN nuclear chief said.
"Iran is subject to the world's most robust nuclear verification regime. Our inspectors are on the ground 24/7. We monitor nuclear facilities, using permanently installed cameras and other equipment," he added.
It is not clear how those inspections provide no clear evidence of a breach, as Iran's regime constantly violates the accord and there is hard evidence of its wrongdoings. Recently several media outlets posted pictures of Iran's regime effort to transfer soldiers to military sites via Iran's private airlines. Another breach is the unstoppable show off of weapons and regime's recent test launch of new long-range ballistic rockets, which are turning the country into a new worldwide threat, alongside North Korea.
US Ambassador to the UN Nikki Haley traveled recently to Vienna to press the IAEA on accessing Iran's military sites.
Iranian Foreign Minister Mohammad Javad Zarif has slammed Washington's approach to the nuclear deal saying that the US was "openly hostile toward the JCPOA and determined to undermine and destroy it."
The IAEA has recently reaffirmed Iran's adherence to its commitments under the nuclear agreement. Haley, however, argued that the U.S. president "has grounds" to refuse to certify the JCPOA even if Iran was not found to be violating the terms of the accord.