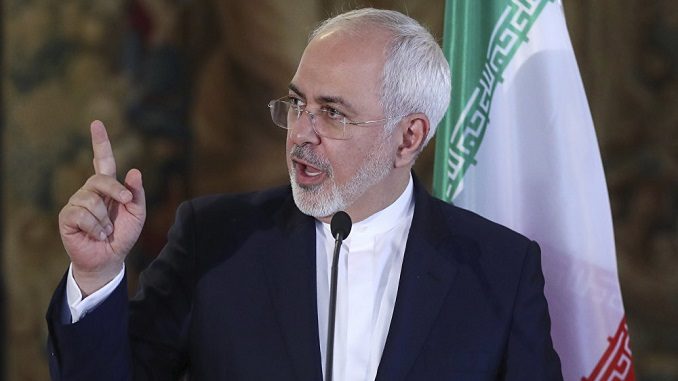 The top Iranian diplomat slammed U.S. President Trump for his statement of support for the Iranian protests, saying that in fact, his policy towards Iran has had a negative effect on the situation in the country, Mehr News reports.
Iranian Foreign Minister Javad Zarif has condemned U.S. President Donald Trump's show of "support" and "respect" for the people of Iran in the wake of mass protests in the Islamic republic.
"Trump has an odd way of showing 'such respect' for Iranians: from labeling them a 'terrorist nation' & banning them from visiting the U.S., to petty insults on the name of the Persian Gulf. But best of all, "helping them" by depriving them of the economic dividends from the #JCPOA," Zarif said in a Twitter post.
During recent protests in several Iranian cities against the economic conditions of the country, the U.S. president regularly posted messages on his tweeter account urging Iranian people into violence and the downfall of the government.
On Wednesday, Trump took to Twitter to show "respect" for Iranians taking part in the protests against "their corrupt government" and said the people of Iran will see "great support from the United States at the appropriate time."
In an earlier letter to UN Secretary-General Antonio Guterres, Iran's Envoy to the UN Gholamali Khoshroo denounced Trump's support for the protests as "grotesque" meddling in Tehran's domestic affairs. Iran's UN ambassador condemned the U.S. brazen support for protests in Iran, saying its grotesque way of meddling in the country's internal affairs is a violation of international law.
"In the past several days, the U.S. administration, led by the U.S. president, has stepped up its acts of intervention in a grotesque way in Iran's internal affairs under the pretext of providing support for sporadic protests " in the country, which in several instances were hijacked by infiltrators to include acts of senseless homicide – including the murder of a 12-year-old boy and his father, blind violence and rampant destruction," Khoshroo said in a Wednesday letter to the UN Security Council and to UN Secretary-General Antonio Guterres.