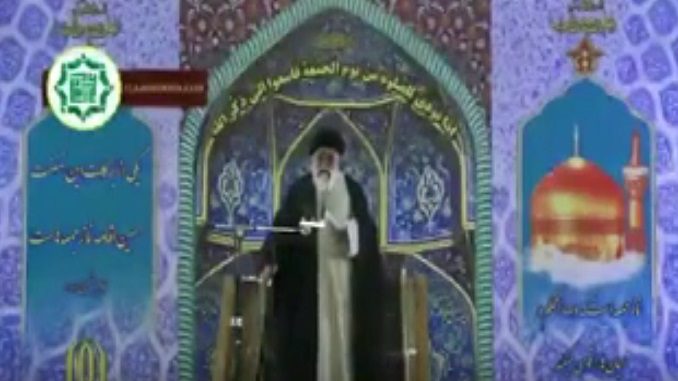 Boris Johnson is a "liar, clown and a womanizer", an Iranian religious leader has said after he came to the country to try and free a jailed British mum, The Sun reports.
Ayatollah Alamolhoda, an Iranian Shia Islamic cleric, hit out at the Foreign Secretary during Friday prayers, and referred to jailed Nazanin Zahari Ratcliffe as a "dirty spy". Speaking last week, he said Johnson's visit was against the values of the Islamic revolution.
Other news agencies said the fact that Johnson had been to visit showed the importance of the British mum to the state. He was reported to have said that "in his country is also known as a filthy, liar and clown". And they accused him of only wanting to come to Iran to talk about "his spy" Nazanin.
The 38-year-old was arrested as she was leaving the country following a family holiday with her husband and then baby daughter in April 2016. She is serving a five-year term over allegations, which she denies, of plotting to overthrow the Tehran government.
The situation risked being worsened when the Foreign Secretary suggested she could have been "training journalists" – something her family has furiously denied. But Foreign Secretary Johnson said he had "worthwhile" discussions about her plight on his recent visit to Iran. While he said he did not want to raise false hopes, he believed his messages had been received and understood by Iranian officials.
And Nazanin has been allowed to phone her husband every day since he came to the country – and the family has been given extra visits. Husband Richard Ratcliffe has written to Iran's Ambassador to the UK to complain.
"She is not a spy. She has never sold her country out. Not even the Revolutionary Court has claimed that. With all these new spy claims, the Emperor has no clothes. It matters more to make such mistakes in a religious place. Saying something false at Friday prayers does not make it true, but it makes it more dangerous – because it risks making it sanctified fact. A falsehood in a place of God is not less of a lie, but more. Friday prayers should be a place of truth and respect, not of insults and mistakes."