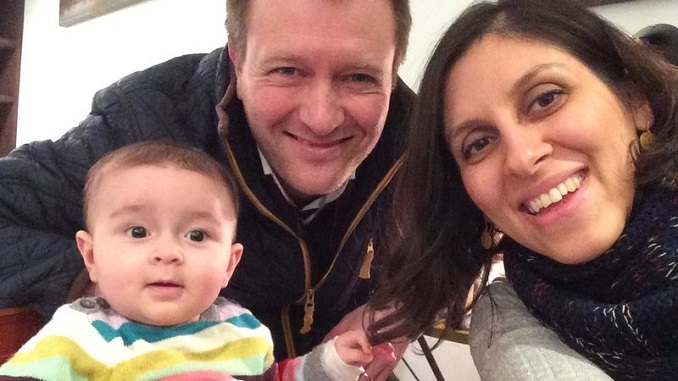 Two videos that aired on Iranian television over the weekend, showing two detained foreign nationals, suggest that Tehran is trying to pressure Washington in advance of a potential decision on sanctions, as well as to push Britain to repay more than a half-billion dollars for undelivered weapons.
The videos broadcast Sunday showed a Princeton University graduate student who was conducting historical research in Iran and an Iranian-British charity worker who was visiting family. Both have been sentenced on espionage charges, and their governments and colleagues consider them political pawns.
"What the Iranian government is doing is reprehensible. But you have to juxtapose it against, how do we bring our people home? We can't just let them languish." said Reza Marashi, research director of the National Iranian American Council, stressing Iran's hints of interest in a prisoner swap.
Xiyue Wang, who was researching governance in Persia from 1880 to 1921, was shown on Iranian TV 2 writing what appeared to be a confession, interspersed with footage of the CIA seal and students strolling across Princeton's campus as ominous music suggesting villainy thrummed in the background.
In his English-language comments, however, Wang acknowledged nothing more incriminating than looking at historical archives, talking to a U.S. diplomat about educational programs abroad and opining vaguely that knowledge of the country is "better for (U.S.) policy toward Iran." Wang has been sentenced to 10 years in prison for "infiltrating" the country, The Washington Post adds.
A second footage featuring jailed British Iranian dual national Nazanin Zaghari-Ratcliffe, who is serving five years, purportedly showed that she was training journalists and "opposition cyber teams" to establish a spy network. Her family and co-workers at the Thomson Reuters Foundation have said she was on a personal visit, and was not doing any journalistic work.
The release of the videos comes at a critical point for relations between Iran and the two countries, which were among six world powers that negotiated the 2015 deal with Iran to ease some sanctions in exchange for restrictions on its nuclear program, The Post notes.
Britain is considering paying $530 million to Iran to clear an outstanding debt dating from a pre-revolution sale of tanks and other vehicles in the 1970s. Both London and Tehran say the payment is not linked to Zaghari-Ratcliffe's release, and denied it is a ransom. But it is similar to a $400 million U.S. payment to Iran in 2016 to settle another decades-old weapons debt, flying pallets of cash to Tehran only after it released five U.S. citizens, including Washington Post reporter Jason Rezaian.