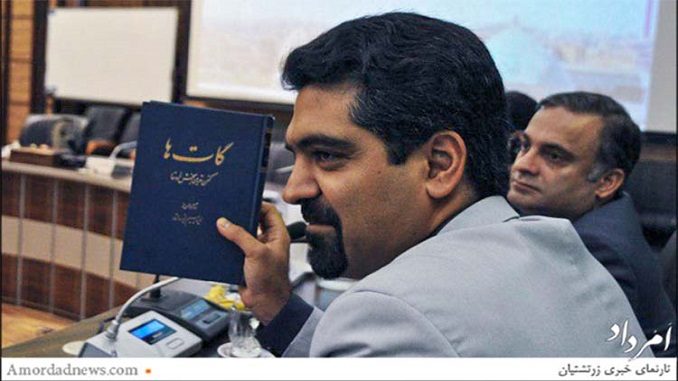 The head of Iran's judiciary has sided with proponents of banning religious minorities from local elections while the government of Hassan Rouhani has reiterated their rights as citizens under the Constitution.
In his remarks, Chief Justice Sadegh Larijani said that the ban was the Guardian Council's prerogative as the country's highest authority in determining legislative compliance with Islamic principles.
"There's nothing wrong with the decision of the Guardian Council's theologians to investigate this issue from the point of view of Islamic law," he said. "That's their job."
The Guardian Council is a body of six clerics and six jurists that vets laws and elections for conformity with Islamic principles. For weeks, Iranian state officials have been debating the validity of the Law on the Formation, Duties, and Election of National Islamic Councils, which permits followers of all religions recognized in Articles 12 and 13 of the Constitution—Islam, Judaism, Christianity, and Zoroastrianism—to run as candidates in elections.
The dispute broke out in September 2017 following a ruling by the Administrative Court in the city of Yazd suspending Sepanta Niknam, a follower of the Zoroastrian faith, who was re-elected to the city council in  May 2017.
The ruling was in favor of Ali Asghar Bagheri, a Muslim candidate, who lodged a complaint after failing to receive enough votes to win a seat in the council.
The court based its decision on the April 2017 declaration by Ayatollah Ahmad Jannati, the ultra-conservative chairman of the Guardian Council, banning non-Muslims from representing Muslim-majority constituencies.
The judiciary chief's decision to back the Guardian Council puts it at odds with Iran's Parliament and government, which have opposed the ban.
"The Zoroastrian faith is one of our country's officially recognized religions in the Constitution," said a spokesman for the government of President Hassan Rouhani, Mohammad Bagher Nobakht, on October 31.
"Zoroastrians enjoy the rights of citizenship and our laws allow them to exercise those rights," he told reporters at a press conference.
"We are looking for ways to resolve this issue before it escalates further," he added. "The president has asked the interior minister to look into this matter and hopefully come up with a solution."
On October 18, Parliament Speaker Ali Larijani, the judiciary chief's brother, condemned Niknam's suspension as illegal and threatened to refer the dispute to the Expediency Discernment Council for arbitration.