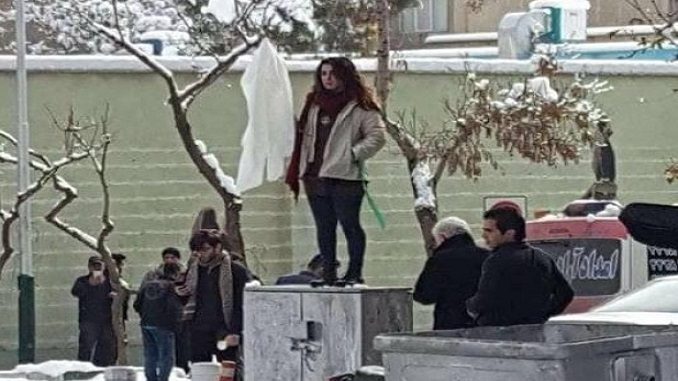 Women in Iran are waving white clothes on the end of sticks — but it is an act of defiance, not surrender. During the protests that rocked Iran earlier this month, a powerful image emerged of an unveiled woman waving a white veil on the end of a stick, CBC reports.
Vida Movahed, 31, was arrested for this act of protest. According to reports, she was detained and only released last Sunday. Hers is not an isolated protest; more and more women are removing their hijabs — and taking the risk of posting pictures online — as part of a movement called #WhiteWednesdays.
Masih Alinejad, the creator of the movement, grew up in Iran and wore the veil from the age of seven — as legally required.
"For almost four decades, we, the women of Iran, have been unhappy about compulsory hijab. And we had the fear inside our heart. But now… I think the government of Iran, they have the fear of these brave women," she said.
Alinejad grew up in a religious family in a small village, where she was always jealous of the freedom her little brother and other boys enjoyed. In her teenage years, she found moments to remove her hijab in secret but soon realized many women were doing the same thing in private. Later in life, living in self-imposed exile in New York, she created the Facebook page My Stealthy Freedom, where she "asked women to publish their photos, to talk about it in public."
The page has been inundated with pictures, videos, and personal stories. Its success prompted her to start #WhiteWednesdays. Through both, Alinejad said she is giving a voice to women who are silenced in the Islamic Republic. Its success prompted her to start #WhiteWednesdays. Through both, Alinejad said she is giving a voice to women who are silenced in the Islamic Republic.
Alinejad said her ultimate aim is not to remove veils entirely from Iranian society but to overturn their compulsory status. There are women who do wear the veil who also support her cause, she said, adding that their support for the hijab does not extend to forcing other women to wear it.
"After the revolution, the government of Iran has started to write their ideology in our body. We want to be free to choose our lifestyle. We want to be free to have the same rights as men having inside Iran," she said.
But this defiance comes with a price. Iranian intelligence agents have arrested a second young woman for removing her hijab in public to protest the country's strict dress code for women, the woman's lawyer told Radio Farda. The woman, who was arrested January 29 after removing her hijab on a busy street in downtown Tehran, appears to have been inspired by the "Girl of Revolution Street," an unidentified woman who removed her hijab and waved it like a flag over Tehran's Enqelab (Revolution) Street December 27, 2017.
Video of the Girl of Revolution Street's protest went viral, and more women were emboldened to express their dissatisfaction with compulsory hijab in similar protests.
"The woman, now known as the 'Second Girl of Revolution Street', is named Nargess Hosseini. She was arrested and her bail was set at $140,000. Presumably, the judge knows the financial situation of Ms. Hosseini's family, and issuing such a heavy bail shows they intended to keep her behind bars," renowned human rights lawyer and former prisoner Nasrin Sotoudeh, who has agreed to represent Hosseini, told Radio Farda.
The charges against Hosseini have not yet been made public. A note under Article 638 of Iran's Islamic Penal Code stipulates that "Women who appear in public without the Islamic hijab can be sentenced to up to two months in prison and be issued a fine up to 500,000 rials (roughly $13).
The Girl of Revolution Street has become a symbol of Iranian women's resistance to the compulsory hijab. Images of her one-woman protest December 27 flooded social media, where she has been lauded as a courageous defender of women's rights.
Videos and photos shared widely on Facebook and Twitter showed Hosseini following the Girl of Revolution Street's lead, removing her scarf and standing on an electric box for ten minutes, before plainclothes policemen stepped in and took her away. Several other young women and at least one man have followed suit with similar protests.