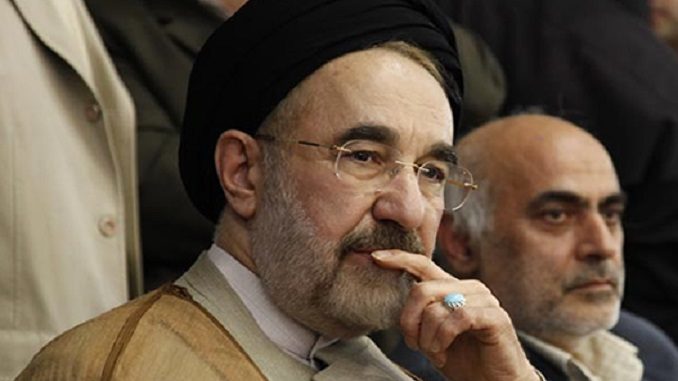 Former reformist President Mohammad Khatami has been banned from making public appearances and receiving political guests for three months. The ban, first reported on October 5, 2017, was issued by the Special Court for the Clergy one week after six prominent reformist politicians, including Khatami's younger brother, were sentenced to a year in prison on charges of "propaganda against the state." They were also banned from political and media activities for two years.
Thousands of Iranians defended Khatami on social media. On October 5, more than 17,000 tweets were posted under the hashtag #خاتمی_ماندگار, "Khatami Forever," the vast majority of which originated from inside Iran, according to an investigation by the Center for Human Rights in Iran (CHRI).
"We say a big 'No' to the illegal Special Court for the Clergy for imposing unlawful restrictions on Mohammad Khatami," tweeted formerly imprisoned senior reformist politician Mostafa Tajzadeh.
The order was issued by a prosecutor in the Special Court for the Clergy, Ebrahim Raisi, who unsuccessfully ran against President Hassan Rouhani—an ally of Khatami—in Iran's May 2017 election.
"The Special Court for the Clergy sent a letter, signed by the Special Prosecutor for the Clergy Ebrahim Raisi, to Mohammad Khatami's home prohibiting him from attending any political or promotional events for three months," Kalame, an opposition website, reported on October 5, 2017.
"Also, individuals and officials from the government, seminary schools as well as political, trade union and student groups, are not allowed to meet with Khatami," added the report.
Another opposition website, Ensaf News, quoted Javad Emam, one of Khatami's close associates, confirming the order without providing further details.
Since 2015, Khatami, who for two terms led the Islamic Republic of Iran's first reformist government from 1997 to 2005, has been restricted from being quoted or appearing in images in the country's media because of his support for the peaceful protests against the result of the 2009 presidential election.
Those protests, which came to be known as the Green Movement, are referred to as the "sedition" by hardliners in government. Its leaders—former presidential candidates Mir Hossein Mousavi and Mehdi Karroubi, as well as Zahra Rahnavard—have been under extrajudicial house arrest since 2011.
"On behalf of freedom seekers, I beseech the great leader [Supreme Leader Ali Khamenei] to issue an order to resolve the house arrests," tweeted Khatami on August 20, 2017. "This is in the interest of the state and a sign of the country's security and strength."
Khatami has also been banned from travelling abroad since 2009. News of the court order against Khatami came on the heels of statements a day earlier by Mohammad Reza Tabesh, the deputy leader of the reformist Omid (Hope) block in Parliament.
"[Tabesh,] the MP from Ardakan, spoke about new restrictions imposed on the head of the reformist government and described them as regrettable," the semi-official Iranian Students' News Agency (ISNA) reported without further detail on October 4.